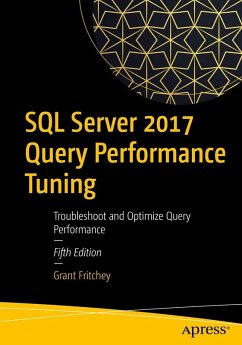 Andere Kunden interessierten sich
auch
für
This book covers the latest in performance optimization features and techniques and is current with SQL Server 2017. If your queries are not running fast enough and you're tired of phone calls from frustrated users, then this book is the answer to your performance problems.
SQL Server 2017 Query Performance Tuning is about more than quick tips and fixes. You'll learn to be proactive in establishing performance baselines using tools such as Performance Monitor and Extended Events. You'll recognize bottlenecks and defuse them before the phone rings. You'll learn some quick solutions too, but emphasis is on designing for performance and getting it right. The goal is to head off trouble before it occurs.
What You'll Learn
Use Query Store to understand and easily change query performance
Recognize and eliminate bottlenecks leading to slow performance
Deploy quick fixes when needed, following up with long-term solutions
Implement best practices in T-SQL to minimize performance risk
Design in the performance that you need through careful query and index design
Utilize the latest performance optimization features in SQL Server 2017
Protect query performance during upgrades to the newer versions of SQL Server
Who This Book Is For
Developers and database administrators with responsibility for application performance in SQL Server environments. Anyone responsible for writing or creating T-SQL queries will find valuable the insight into bottlenecks, including how to recognize them and eliminate them.
---
Dieser Download kann aus rechtlichen Gründen nur mit Rechnungsadresse in A, B, BG, CY, CZ, D, DK, EW, E, FIN, F, GR, HR, H, IRL, I, LT, L, LR, M, NL, PL, P, R, S, SLO, SK ausgeliefert werden.
Produktdetails
Verlag: Springer-Verlag GmbH
Seitenzahl: 932
Erscheinungstermin: 3. September 2018
Englisch
ISBN-13: 9781484238882
Artikelnr.: 53796597
1. SQL Query Performance Tuning

2. Memory Performance Analysis

3. Disk Performance Analysis

4. CPU Performance Analysis

5. Creating a Baseline

6. Query Performance Metrics

7. Analyzing Query Performance

8. Index Architecture and Behavior

9. Index Analysis

10. Database Engine Tuning Advisor

11. Query Store

12. Key Lookups and Solutions

13. Statistics, Data Distribution, and Cardinality

14. Index Fragmentation

15. Execution Plan Generation

16. Execution Plan Cache Behavior

17. Parameter Sniffing

18. Query Recompilation

19. Query Design Analysis

20. Reduce Query Resource Use

21. Blocking and Blocked Processes

22. Causes and Solutions for Deadlocks
23. Row-By-Row Processing

24. Memory-Optimized OLTP Tables and Procedures

25. Automated Tuning in Azure SQL Database and SQL Server

26. Database Performance Testing

27. Database Workload Optimization

28. SQL Server Optimization Checklist