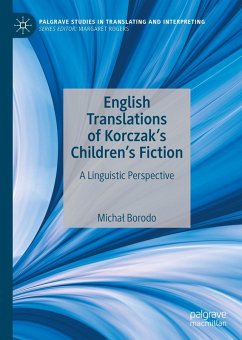 Produktdetails
Palgrave Studies in Translating and Interpreting
Artikelnr. des Verlages: 978-3-030-38116-5
1st ed. 2020
Seitenzahl: 264
Erscheinungstermin: 23. Februar 2020
Englisch
Abmessung: 218mm x 177mm x 20mm
Gewicht: 472g
ISBN-13: 9783030381165
ISBN-10: 3030381161
Artikelnr.: 58290310
Chapter 1: Introduction.- Chapter 2: The Language of Translated Children's Fiction: Key Issues.- Chapter 3: Sketching the Context: English Translations of Polish Children's Literature.- Chapter 4: Cultural Assimilation, Foreignization, Fairytalization and Hyperbolization.- Chapter 5: Mitigation, Standardization, Simplification and Explicitation.- Chapter 6: Style and Sociolect: A Corpus-Based Study.- Chapter 7: Formal Literary Style and Modern American Idiom.- Chapter 8: On Cannibals and Savages: Translators' Treatment of Racial Issues.- Chapter 9: Conclusion.