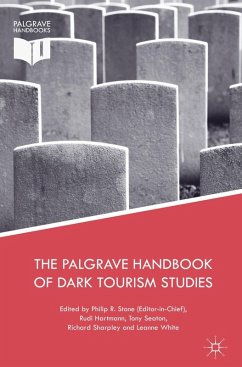 Andere Kunden interessierten sich
auch
für

Adopting multidisciplinary perspectives from authors representing every continent, the book combines 'real-world' viewpoints from both industry and the media with conceptual underpinning, and offers comprehensive and grounded perspectives of 'heritage that hurts'. The handbook adopts a progressive and thematic approach, including critical accounts of dark tourism history, dark tourism philosophy and theory, dark tourism in society and culture, dark tourism and heritage landscapes, the 'dark tourist' experience, and the business of dark tourism.

The Palgrave Handbook of Dark Tourism Studies will appeal to students and scholars with an interest in aspects of memorialisation and morality in sociology, death studies, history, geography, cultural studies, philosophy, psychology, business management, museology and heritage tourism studies, politics, religious studies, and anthropology.

Produktdetails
Artikelnr. des Verlages: 978-1-137-47565-7
1st ed. 2018
Seitenzahl: 808
Erscheinungstermin: 2. März 2018
Englisch
Abmessung: 241mm x 160mm x 48mm
Gewicht: 1366g
ISBN-13: 9781137475657
ISBN-10: 113747565X
Artikelnr.: 48478746
Section 1: Dark Tourism History. 1.Encountering Engineered and Orchestrated Remembrance: A Situational Model of Dark Tourism and its History. 2. Crime, Punishment and Dark Tourism: The Carnivalesque Spectacles of the English Judicial System. 3. Death and the Tourist: Dark Encounters in Mid-Nineteenth Century London via the Paris Morgue. 4. The British Traveller and Dark Tourism in Eighteenth and Nineteenth-Century Scandinavia and the Nordic Regions. 5. 'The Smoke of an Eruption, and the Dust of an Earthquake': Dark Tourism, the Sublime and the Re-Animation of the Disaster Location.-Section 2: Dark Tourism: Philosophy and Theory. 6. Thanatourism - A Comparative Approach. 7. Dark Tourism in an Increasingly Violent World. 8. Dark Tourism in an Age of the 'Spectacular Death'. 9. Dionysus Versus Apollo : An Uncertain Search for Identity through Dark Tourism - Palestine as a Case Study. 10. Dark Tourism as Psychogeography: An Initial Exploration. Section 3: Dark Tourism in Society and Culture. 11. Dark Tourism, Dissonant Heritage & Memorialisation: The Case of the Rwandan Genocide. 12. 'Pablo Escobar Tourism' - Unwanted Tourism: Attitudes of Tourism Stakeholders in Medellin, Colombia. 13. Tourism Mobilities, Spectralities and the Hauntings of Chernobyl. 14. Disasters and Disaster tourism: The Role of the Media. 15. Denial of the Darkness, Identity and Nation-Building in Small Islands: A Case Study from the Channel Islands. Section 4: Dark Tourism and Heritage Lanscapes. 16. Sites of Suffering, Tourism and the Heritage of Darkness: Illustrations from the United States of America. 17. From Celebratory Landscapes to Dark Tourism Sites?: Exploring the Design of Southern Plantation Museums. 18. Dark Tourism to Seismic Memorial Sites. 19. First World War Battlefield Tourism: Journeys out of the Dark and into the Light. 20. Tourism to Memorial Sites of the Holocaust: Changing Memorial Landscapes, Changing Approaches to the Study of the Sites Associated with the Victims and Perpetrators in Nazi Germany.-Section 5: The 'Dark Tourist' Experience. 21. Unravelling Fear of Death Motives in Dark Tourism. 22. Politics of Dark Tourism: The Case of Cromañon and ESMA, Buenos Aires, Argentina. 23. 'I Know the Plane Crashed': Children's Perspectives in Dark Tourism. 24. Dark Tourism Visualisation: Some Reflections on the Role of Photography. 25. Educating the (Dark) Masses: Dark Tourism and Sensemaking. Section 6: The Business of Dark Tourism. 26. Marketing Dark Heritage: Building Brands, Myth-Making and Social Marketing. 27. Death as a Commodity: The Retailing of Dark Tourism. 28. Exhibiting Death and Disaster: Museological Perspectives. 29. Souvenirs in Dark Tourism: Emotions and symbols. 30. Shining a Digital Light on the Dark: Harnessing Online Media to Improve the Dark Tourism Experience.
"Readers will find this book extremely useful for thinking about the concept, its meaning, and how it may be used to expand human understanding. The Palgrave Handbook of Dark Tourism Studies hits the sweet spot between accessibility and scholarly sophistication and balances the specific with the general and theoretical. ... this handbook is essential, provocative, inspiring, and representative of the best and most experienced minds in the field." (Kathryn N. McDaniel, Journal of Tourism History, March, 1, 2019)