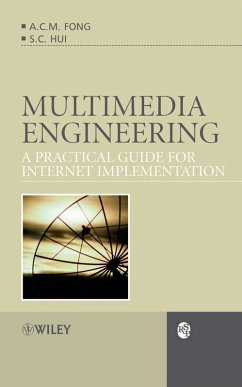 Andere Kunden interessierten sich
auch
für


Using worked-through examples, this book gives the reader an insight into many practical engineering problems and solutions.
---
Multimedia technologies and the internet are increasingly intrinsic to our daily lives, and into the future will continue to transform the way we live. Multimedia Engineering describes the latest advances in this technology applied to the Internet and WWW. It immerses the reader into the development of many practical internet/ multimedia systems, offering an insight into a range of engineering problems and solutions. It provides a broad coverage of internet/WWW and multimedia processing, as well as transmission and practical applications. * Provides an overview of state-of-the-art technologies * Addresses commerical, industrial and educational applications and security and privacy issues. * Offers a detailed background into how the internet has been used to support multimedia communications * Assumes a practical and descriptive problem-solving approach, featuring many worked-through examples * Written by widely published authors with years of research in the field Multimedia Engineering will appeal to graduate and senior undergraduate students in electrical and electronic engineering, industrial, systems & computer engineering. It will also be of interest to electrical, computer and systems engineers and web developers interested in, or already engaged in, this emerging field.
Produktdetails
RSP Bird
Verlag: Wiley & Sons
Artikelnr. des Verlages: 14503019000
Seitenzahl: 286
Erscheinungstermin: 21. April 2006
Englisch
Abmessung: 234mm x 161mm x 24mm
Gewicht: 538g
ISBN-13: 9780470030196
ISBN-10: 0470030194
Artikelnr.: 20870372
Chapter 1. The Dawn of a New Age 3/4 The Information Age. 1. The Information Age and this Book. 2. The internet, World Wide Web and Multimedia. 3. Organization Chapter 3. The Internet As An Information Repository. 1. Introduction 2. Current Status, Promises and Challenges. 3. Search Engines 4. Personalized Monitoring Services Current Web Monitoring Systems 5. Storage and Retrieval of Visual Data. 6. Case Study: Discovery/Monitoring of Web Publications. 7. Further Advancements. Chapter 3. The Internet As A Communications Medium. 1. Introduction 2. Internet Communication Protocols 3. Electronic Mail 4 Online Presence Notification and Instant Messaging. 5. Internet Telephony. 6. Video Data Transmission. 7.; Desktop Videoconferencing 8. Unified Messaging. Chapter 4. Internet Security. 1. Introduction 2. Internet Security 3/4 An Overview 3 Practical Approaches. 4 Security for Java 3/4 An Internet Java Phone Example. 5 Biometrics for Identity Authentication Multi
view Facial Analysis. Chapter 5. Internet Privacy. 1. Introduction 2 Web Content Filtering Methods and Tools A Survey 3 An Effective Web Content Filtering System Chapter 6. Commercial And Industrial Applications. 1. Introduction 2. Virtual Electronic Trading For B2b E
Commerce. 3. Web
based Customer Technical Support 4. Knowledge Discovery for Managerial Decisions 5. Web
based Intelligent Surveillance System Chapter 7. (by G. Y. Hong) Implementing and Delivering Internet and Multimedia Projects. 1. Introduction 2. Process Modeling and Lifecycle 3. Project Planning and Management 4. Design, Implementation and Testing. 5. Measurements 6. Conclusion Chapter 8. (by B. Fong) From E
Commerce to M
Commerce. 1. Electronic Commerce. 2. Going Mobile 3. Marketing and Mobility. 4. Providing Reliable M
commerce Service is Challenging. 5 Chapter Summary. Appendix A. Popular Colour Models. Appendix B. Glossary. Index.