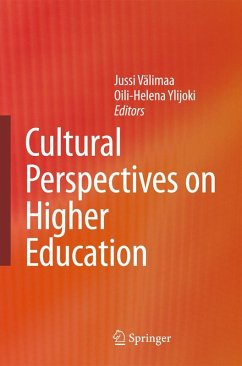 Andere Kunden interessierten sich
auch
für

The first part of the book presents fresh perspectives to integrate cultural studies in higher education with wider societal processes. Professor William G. Tierney speaks about trust and culture in higher education, whereas Professor Imanol Ordorika opens a political perspective to higher education institutions.
The second part of the book studies the internal life of higher education. Relying on a variety of cultural perspectives, the chapters explore the actual day-to-day practices taking place in higher education, ranging from student socialisation, student consumerism, tensions in combining academic and market-oriented targets in knowledge production to the formation of academic identities in different disciplinary and organisational cultures.
The focus in the third part of the book is to use cultural perspectives developed in previous studies on disciplinary and organisational cultures as a framework to understand a variety of processes and reforms taking place at the institutional level of high education. The chapters in this part of the book analyse the Bologna Process, the evolution of scientific fields in American universities, organisational cultures in Chinese post-merger universities, and doctoral education and cooperation with industry.
Produktdetails
Verlag: Springer / Springer Netherlands
Artikelnr. des Verlages: 11974383
Erscheinungstermin: 12. Februar 2008
Englisch
Abmessung: 241mm x 160mm x 20mm
Gewicht: 604g
ISBN-13: 9781402066030
ISBN-10: 1402066031
Artikelnr.: 23074535
1. Introduction to the Book and its Contents: Jussi Välimaa & Oili-Helena Ylijoki.- Part I Culture, Society and Higher Education:2. Cultural Studies in Higher Education Research: Jussi Välimaa.- 3. Trust and Organizational Culture in Higher Education: William G. Tierney.- 4. Building or Eroding Intellectual Capital?: Student Consumerism as a Cultural Force in the Context of Knowledge Economy: Rajani Naidoo.- Part II Academic Practices and Identities:5. The Moral Order of Business Studying: Hanna Päiviö.- 6. A Clash of Academic Cultures -The Case of Dr. X: Oili-Helena Ylijoki.- 7. Academic Work and Academic Identities: A Comparison between Four Disciplines: Christine Musselin & Valérie Becquet.- 8. Culture in Interaction: Academic Identities in Laboratory Work: Martin Benninghoff & Philippe Sormani.- 9. Caught in the Science Trap? A Case Study of the Relationship between Nurses and 'Their' Science: Paula Nieminen.- 10. Determining the Norms of Science: From Epistemological Criteria to Local Struggle on Organizational Rules?: Juha Tuunainen & Tarja Knuuttila.- Part III Higher Education Institutions and Reforms in Cultural Frameworks:11. Doctoral Education and Doctoral Theses -Changing Assessment Practices: Helena Aittola.- 12. Challenging Traditional Research Training Culture: Industry-oriented Doctoral Programs in Australian Cooperative Research Centres: Kay Harman.- 13. The Evolution of American Scientific Fields: Disciplinary Differences versus Institutional Isomorphism: James Fairweather & Karen Paulson.- 14. Quantitative Assessment of Organisational Cultures in Post-Merger Universities: Yuzhuo Cai.- 15. The Bologna Process in Academic Basic Units: Finnish Universities and Competitive Horizons: David M. Hoffman, Mira Huusko and Jussi Välimaa.- 16. How does the Bologna Process Challenge the National Traditions of Higher EducationInstitutions?: Amelia Veiga & Alberto Amaral.- 17. Future Challenges: Oili-Helena Ylijoki & Jussi Välimaa.- Subject Index.- Contributors.
From the reviews:

"The book offers a comprehensive and in-depth exploration of culture within higher education. ... One of the book's major strengths is a range of perspectives from scholars in various parts of the globe in seven countries. ... The book would appeal to scholars and students of higher education and organizational studies. The book can also serve as a useful course textbook for focused seminars on higher education culture." (Jenny J. Lee, Higher Education, March, 2009)