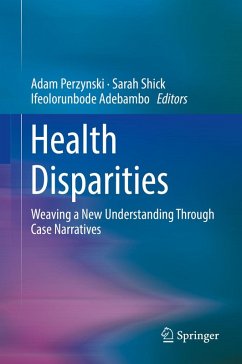 Andere Kunden interessierten sich
auch
für
A sampling of the narratives:
"Finding the Person in Patient-Centered Health Care" (race/ethnicity/culture).
"The Annual Big Girl / Big Boy Exchange" (gender).
"Just Give Me Narcan and Let Me Go" (poverty/addiction).
"Everyone Called Him Crazy" (immigration).
"Adrift in the System" (disability).
"Aging out of Pediatrics" (mental illness and stigma).
"Time to Leave" (LGBT)
A work of profound compassion, Health Disparities will be of considerable interest to researchers and practitioners interested in public health, population health, health disparities, and related fields such as sociology, social work, and narrative medicine. Its wealth of educational features also makes it a quality training text.
"I was impressed when I read Health Disparities: Weaving a New Understanding through Case Narratives. As a patient who has experienced unpleasant situations in health care, I was moved to see that it was emotional and personal for the writers. The book confirms for me that the time is now for change to take place in our health care systems. I see this book as a light that can shine bright in the darkest places of health care. The editors have assembled a powerful book that provides all health professionals with specific steps they can take towards addressing and then eventually eliminating health disparities. A few steps that I really connected with were improving critical awareness, delivering quality care, listening and empathizing with patients and families, and advocating for changes. I recommend that anyone interested in working to improve health care obtain a copy of this book-it's filled with useful information that every medical professional should know. The book reminds me of a quote by Wayne Dyer, 'When you change the way you look at things, the things you look at change.'"
-Delores Collins, Founder and Executive Director, A Vision of Change Incorporated, Certified Community Health Worker. Founder of The Greater Cleveland Community Health Workers Association.
---
Dieser Download kann aus rechtlichen Gründen nur mit Rechnungsadresse in A, B, BG, CY, CZ, D, DK, EW, E, FIN, F, GR, HR, H, IRL, I, LT, L, LR, M, NL, PL, P, R, S, SLO, SK ausgeliefert werden.
Produktdetails
Verlag: Springer-Verlag GmbH
Seitenzahl: 246
Erscheinungstermin: 25.07.2019
Englisch
ISBN-13: 9783030127718
Artikelnr.: 57212073
Student Resources .- Health disparity case narratives background (why create case narratives of health disparities? different types of case narratives; considerations for writing cases; helpful questions; you're ready to start now!).- Health disparity case narratives by theme.- LBGT.- Race.- Gender.- Poverty.- Immigration.- Disability.- Aging.- Technology.- Education.- Insurance.- Glossary of common terms and important events.- Facilitator Resources .- Example syllabus for the 12-month faculty course (course description; objectives; the learning objectives; sample readings; suggested reference and background texts; course requirements, tentative schedule).- Health disparities manuscripts, publications, presentations, and narratives produced by participating scholars and faculty.- Health disparities activities.

"The audience is practitioners, students, educators, and seminar facilitators, who will find this book to be a valuable resource. The book also offers an alternative to fact-based teaching about health disparities for educators and facilitators. ... I found the book both insightful and thought provoking. It is well written, well organized, and a great resource for students, faculty, health practitioners, or anyone interested in garnering a true understanding of health disparities. This book tugs the heart strings!" (Gwendolyn M Oglesby-Odom, Doody's Book Reviews, November 08, 2019)