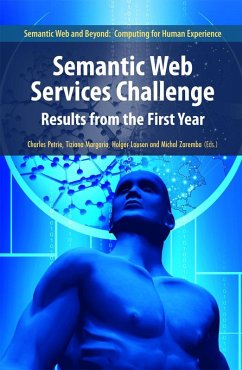 Andere Kunden interessierten sich
auch
für
---
Service-Oriented Computing is one of the most promising software engineering trends because of the potential to reduce the programming effort for future distributed industrial systems. However, only a small part of this potential rests on the standardization of tools offered by the web services stack. The larger part of this potential rests upon the development of sufficient semantics to automate service orchestration.
Currently there are many different approaches to semantic web service descriptions and many frameworks built around them. A common understanding, evaluation scheme, and test bed to compare and classify these frameworks in terms of their capabilities and shortcomings, is necessary to make progress in developing the full potential of Service-Oriented Computing.
The Semantic Web Services Challenge is an open source initiative that provides a public evaluation and certification of multiple frameworks on common industrially-relevant problem sets. This edited volume reports on the first results in developing common understanding of the various technologies intended to facilitate the automation of mediation, choreography and discovery for Web Services using semantic annotations.
Semantic Web Services Challenge: Results from the First Year is designed for a professional audience composed of practitioners and researchers in industry. Professionals can use this book to evaluate SWS technology for their potential practical use. The book is also suitable for advanced-level students in computer science.
Produktdetails
Semantic Web and Beyond: Computing for Human Experience Vol.8
Verlag: Springer, Berlin
Softcover reprint of hardcover 1st ed. 2009
Seitenzahl: 308
Erscheinungstermin: 23. November 2010
Englisch
Abmessung: 235mm x 155mm x 16mm
Gewicht: 475g
ISBN-13: 9781441944405
ISBN-10: 1441944400
Artikelnr.: 32759066
to the First Year of the Semantic Web Services Challenge.- SWS Challenge Scenarios.- Mediation Individual Solutions.- Mediation using WSMO, WSML and WSMX.- A Software Engineering Approach based on WebML and BPMN to the Mediation Scenario of the SWS Challenge.- Service-oriented Mediation with jABC/jETI.- A Declarative Approach using SAWSDL and Semantic Templates Towards Process Mediation.- Automatic Generation of the SWS- Challenge Mediator with jABC/ABC.- Mediation Solutions Comparisons.- Comparison: Mediation Solutions of WSMOLX and WebML/WebRatio.- Comparison: Mediation on WebML/WebRatio and jABC/jETI.- Discovery Individual Solutions.- Instance-based Service Discovery with WSMO/WSML and WSMX.- Using Glue to Solve the Discovery Scenarios of the SWS-Challenge.- Semantic Service Discovery with DIANE Service Descriptions.- An Approach to Discovery with miAamics and jABC.- Discovery Solutions Comparisons.- Service Discovery with SWE-ET and DIANE - An In-depth Comparison By Means of a Common Scenario.- Comparison: Discovery on WSMOLX and miAamics/jABC.- Comparison: Handling Preferences with DIANE and miAamics.- Lessons Learned.- Status, Perspectives, and Lessons Learned.