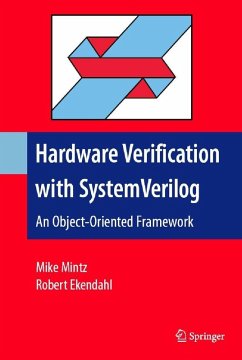 Andere Kunden interessierten sich
auch
für
---
Dieser Download kann aus rechtlichen Gründen nur mit Rechnungsadresse in A, B, BG, CY, CZ, D, DK, EW, E, FIN, F, GR, HR, H, IRL, I, LT, L, LR, M, NL, PL, P, R, S, SLO, SK ausgeliefert werden.
Produktdetails
Verlag: Springer-Verlag GmbH
Erscheinungstermin: 3. Mai 2007
Englisch
ISBN-13: 9780387717401
Artikelnr.: 37288550
SystemVerilog and Verification (The Why and How).- Why SystemVerilog?.- OOP and SystemVerilog.- A Layered Approach.- An Open-Source Environment with SystemVerilog.- Teal Basics.- Truss: A Standard Verification Framework.- Truss Flow.- Truss Example.- Using OOP for Verification (Best Practices).- Thinking OOP.- Designing with OOP.- OOP Classes.- OOP Connections.- Coding OOP.- Examples (Putting It All Together).- Block-Level Testing.- Chip-Level Testing.- Things to Remember.- Examples (Putting It All Together).
"Hardware Verification with SystemVerilog: An Object-Oriented Framework is both a learning tool and a reference work for verification engineers.

This handbook guides the user in applying OOP techniques for verification. Mike and Robert have captured their years of experience in a clear and easy-to-read handbook. The examples are complete, and the code is available for you to get started right away. Highly recommended." Thomas D. Tessier, President, t2design, Inc.

"This handbook contains a lot of useful advice for any verification engineer wanting to create a class-based testbench, regardless of the framework/methodology used. I recommend Hardware Verification with SystemVerilog to anyone who wants a greater understanding of how best to use OOP with SystemVerilog." Dr David Long, Senior Consultant, Doulos

"This is a fantastic book that not only shows how to use SystemVerilog and Object-Oriented Programming for verification, but also provides practical examples that are open source!" Stephanie Waters, Field Applications Engineer, Cadence Design Systems

"I have been using SystemVerilog for two years in my research, and this is by far the best book I have found about how to achieve professional grade verification. I will apply these techniques on my future projects." Dr. Oswaldo Cadenas, Lecturer, Electronic Engineering, University of Reading, UK
"Hardware Verification with SystemVerilog: An Object-Oriented Framework is both a learning tool and a reference work for verification engineers.
This handbook guides the user in applying OOP techniques for verification. Mike and Robert have captured their years of experience in a clear and easy-to-read handbook. The examples are complete, and the code is available for you to get started right away. Highly recommended." Thomas D. Tessier, President, t2design, Inc.

"This handbook contains a lot of useful advice for any verification engineer wanting to create a class-based testbench, regardless of the framework/methodology used. I recommend Hardware Verification with SystemVerilog to anyone who wants a greater understanding of how best to use OOP with SystemVerilog." Dr David Long, Senior Consultant, Doulos

"This is a fantastic book that not only shows how to use SystemVerilog and Object-Oriented Programming for verification, but also provides practical examples that are open source!" Stephanie Waters, Field Applications Engineer,
Cadence Design Systems

"I have been using SystemVerilog for two years in my research, and this is by far the best book I have found about how to achieve professional grade verification. I will apply these techniques on my future projects." Dr. Oswaldo Cadenas, Lecturer, Electronic Engineering, University of Reading, UK