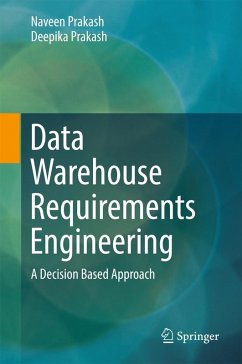 Andere Kunden interessierten sich
auch
für
The notion of a decision occupies a central position in the decision-based approach. On one hand, information relevant to a decision must be elicited from stakeholders; modeled; and transformed into multi-dimensional form. On the other, decisions themselves are to be obtained from decision applications. For the former, the authors introduce a suite of information elicitation techniques specific to data warehousing. This information is subsequently converted into multi-dimensional form. For the latter, not only are decisions obtained from decision applications for managing operational businesses, but also from applications for formulating business policies and for defining rules for enforcing policies, respectively.
In this context, the book presents a broad range of models, tools and techniques. For readers from academia, the book identifies the scientific/technological problems it addresses and provides cogent arguments for the proposed solutions; for readers from industry, it presents an approach for ensuring that the product meets its requirements while ensuring low lead times in delivery.
---
Dieser Download kann aus rechtlichen Gründen nur mit Rechnungsadresse in A, B, BG, CY, CZ, D, DK, EW, E, FIN, F, GB, GR, HR, H, IRL, I, LT, L, LR, M, NL, PL, P, R, S, SLO, SK ausgeliefert werden.
Produktdetails
Verlag: Springer-Verlag GmbH
Erscheinungstermin: 29.01.2018
Englisch
ISBN-13: 9789811070198
Artikelnr.: 52935016
Chapter 1. Requirements Engineering for Transactional Systems.- Chapter 2. Requirements Engineering for Data Warehousing.- Chapter 3. Issues in Data Warehouse Requirements Engineering.- Chapter 4. Decision-Centric Information Elicitation.- Chapter 5. Decisional Application Layer.- Chapter 6. The Development Process.- Chapter 7. Experience.- Chapter 8. Conclusion.