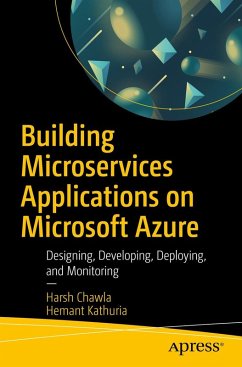 Andere Kunden interessierten sich
auch
für
Building Microservices Applications on Microsoft Azure
begins with a survey of microservices architecture compared to monolithic architecture and covers microservices implementation in detail. You'll see the key scenarios where microservices architecture is preferred over a monolithic approach. From there, you will explore the critical components and various deployment options of microservices on platforms such as Microsoft Azure (public cloud) and Azure Stack (hybrid cloud). This includes in-depth coverage of developing, deploying, and monitoring microservices on containers and orchestrating with Azure Service Fabric and Azure Kubernetes Cluster (AKS).
This book includes practical experience from large-scale enterprise deployments, therefore it can be a quick reference for solution architects and developers to understand the critical factors while designing a microservices application.
What You Will Learn
Explore the use cases of microservices and monolithic architecture

Discover the architecture patterns to build scalable, agile, and secure microservices applications
Develop and deploy microservices using Azure Service Fabric and Azure Kubernetes Service
Secure microservices using the gateway pattern
See the deployment options for Microservices on Azure Stack
Implement database patterns to handle the complexities introduced by microservices
Who This Book Is For
Architects and consultants who work on Microsoft Azure and manage large-scale deployments.
Produktdetails
Verlag: Apress / Springer, Berlin
Artikelnr. des Verlages: 978-1-4842-4827-0
1st ed.
Seitenzahl: 280
Erscheinungstermin: 18. Juli 2019
Englisch
Abmessung: 235mm x 155mm x 15mm
Gewicht: 429g
ISBN-13: 9781484248270
ISBN-10: 1484248279
Artikelnr.: 55352329
1. Evolution and Need of Microservices

Chapter Goal: Understand the benefits of microservices architecture over monolithic architecture.

Number of Pages :20

Chapter Outline

a. Overview of monolithic architecture

b. Scalability challenges of monolithic applications

c. Need of Microservices architecture

d. How Microservices can solve scalability challenges

2. Microservices in enterprise

Chapter Goal: Understand the valid use cases and need of microservices for enterprise audience and various deployment choices on Microsoft Azure

Number of Pages :40

Chapter Outline

a. Use cases of microservices Architecture

b. Options to deploy microservices

c. Deployment options on Azure

i. Deployment options overview

ii. Containers on AKS

1. Container basics

2. Maintain container registry using Azure Container Registry

3. Deploy containers on AKS

iii. Azure Service Fabric

1. Stateless Services

2. Stateful Services

3. Guest Executables

d. Database deployment options for Microservices

i. Deployment options overview

ii. Deploy database on Azure SQL DB

iii. Deploy database on Azure SQL database managed instance

e. Microservices commonly used patterns and practices

i. API Gateway

ii. Versioning Microservices

iii. Inter Service Communication

3. Azure Service Fabric

Chapter Goal: Deep dive into various Azure service Fabric deployment options and the benefits of using this solution to deploy microservices applications

Number of Pages :30

Chapter Outline

a. Azure Service Fabric Key Concepts

i. Fault Domain

ii. Upgrade Domain

iii. Interservice Communication

b. Create Azure Service Fabric Cluster

c. Advantages over on-premise Azure Service Fabric cluster

d. Deploy application on Azure Service Fabric

i. Stateless services

ii. Stateful services

iii. Guest executables

e. Deploy .Net Core Stateless Service on Azure Service Fabric cluster

f. Options to integrate with DevOps

4. Monitoring Azure Service Fabric Clusters

Chapter Goal: Understand various monitoring options on Azure for Azure Service Fabric Clusters

Number of Pages :20

Chapter Outline

a. Options to monitor Azure Service Fabric Clusters

b. Application Insights

i. Database dependency Calls

ii. Application Map

c. OMS

d. Service Fabric Explorer

5. Azure Kubernetes Service - AKS

Chapter Goal: Deep dive into various AKS options and the benefits of using this solution to deploy microservices applications

Number of Pages: 40

Chapter Outline

a. AKS Cluster Key Concepts

b. Create AKS cluster

c. Advantages over on-premise Kubernetes cluster

d. Deploy containerized .Net Core based web application

e. Options to integrate with DevOps

6. Azure Kubernetes Cluster Monitoring

Chapter Goal: Understand various monitoring options to monitor containers and applications hosted on Azure Kubernetes services

Number of Pages :20

Chapter Outline

a. Options to monitor Azure Kubernetes Services

b. Application Insights

i. Database Dependency Calls

ii. Application Map

c. Azure Monitor for Containers

7. Securing your Microservices

Chapter Goal This chapter details out the options available to secure your ASP.Net MVC Frontend, MVC Web API and SPA based applications using Azure Active Directory.

Number of Pages :20

Outline

a. Securing ASP.Net MVC - Core application using AAD.

b. Securing ASP.Net MVC API -Core application using AAD bearer tokens

c. Securing Angular based SPA applications using AAD implicit flow.

8. Database Design Patterns

Chapter Goal: This chapter focuses on various database options for Microservices applications. This will also clarify the question on whether the microservices should be deployed on separate DBs or a single DBs.

· Chapter Outline

o Common database patterns and techniques

o Common challenges to host databases for microservices architecture

o Shared DB vs isolated DB for each microservice

o Host separate DB per microservice

o Hosting shared DB on Azure SQL DB

o Multiple Schemas on Azure SQL database managed instance

o Various synchronization options for common data across Microservices

9. Build hybrid applications using Microsoft Azure Stack

Chapter Goal: Organizations which are getting ready for cloud or want hybrid cloud options, Azure stack is the solution for them. In this chapter we will discuss about how to use Azure stack services to build microservices applications.

Number of Pages :30

Chapter Outline

o Overview of Azure Stack

o Azure services available on Azure stack

o Build application and database containers on Azure Stack

o Deploy containerized application on service fabric cluster on Azure stack

o Monitoring application on Azure Stack