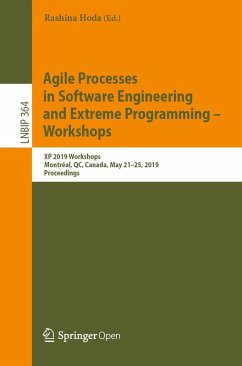 Andere Kunden interessierten sich
auch
für


XP is the premier agile software development conference combining research and practice. It is a hybrid forum where agile researchers, academics, practitioners, thought leaders, coaches, and trainers get together to present and discuss their most recent innovations, research results, experiences, concerns, challenges, and trends. Following this history, for both researchers and seasoned practitioners XP 2019 provided an informal environment to network, share, and discover trends in Agile for the next 20 years.

Research papers and talks submissions were invited for the three XP 2019 research workshops, namely, agile transformation, autonomous teams, and large scale agile. This book includes 15 related papers. In addition, a summary for each of the four panels at XP 2019 is included. The panels were on security and privacy; the impact of the agile manifesto on culture, education, and software practices; business agility - agile's next frontier; and Agile - the next 20 years.


Produktdetails
Lecture Notes in Business Information Processing 364
Artikelnr. des Verlages: 978-3-030-30125-5
1st ed. 2019
Seitenzahl: 172
Erscheinungstermin: 31. August 2019
Englisch
Abmessung: 235mm x 155mm x 9mm
Gewicht: 272g
ISBN-13: 9783030301255
ISBN-10: 3030301257
Artikelnr.: 57162597
First International Workshop on Agile Transformation. -Agile Transformation: A Summary and Research Agenda.- 2nd International Workshop on Autonomous Teams.- Trends and updated Research Agenda for Autonomous agile teams: A Summary of the 2nd International Workshop at XP2019.- Spotify Tailoring for Promoting Effectiveness in Cross-Functional Autonomous Squads.- Voices From the Teams - Impacts on Autonomy in Large-Scale Agile Software Development Settings.- Exploring the challenges of integrating data science roles in agile autonomous teams.- The In uence of Culture and Structure on Autonomous Teams in Established Companies.- Agile autonomous teams in complex organizations.- Earn Your Wings: A Novel Approach to Deployment Governance.- 7th International Workshop on Large-Scale Agile.- Future Trends in Agile at Scale: A Summary of the 7th International Workshop on Large-Scale Agile Development.- SAFe Adoptions in Finland: A Survey Research.- Comparing Scaling Agile Frameworks Based on Underlying Practices.- Finnish Large-Scale Agile Transformations: A Survey Study.- Changes Over Time in a Planned Inter-Team Coordination Routine.- Technical-, Social- and Process Debt in Large-Scale Agile: an exploratory case-study.- Doctoral Symposium.- Coordination in Large-Scale Agile Software Development.- Panels.- Security and Privacy.- Agile Manifesto - Impacts on Culture, Education, and Software Practices.- Business Agility.- Agile: The Next 20 Years.