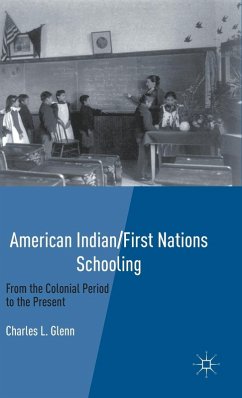 Produktdetails
Artikelnr. des Verlages: 978-0-230-11420-3
2011
Seitenzahl: 238
Erscheinungstermin: Mai 2011
Englisch
Abmessung: 211mm x 140mm x 18mm
Gewicht: 439g
ISBN-13: 9780230114203
ISBN-10: 0230114202
Artikelnr.: 33253748
The present Situation Assumptions about Race Making Christians Wards of Government The 'Five Civilized Nations' Churches as Allies and Agents of the State Decline of the Partnership of Church and State Separate Education Institutionalized Problems of Residential Schools Self-Help and Self-Governance Indian Languages and Cultures Navajo, Cree, and Mohawk Continued Decline of Indian Languages Indians in Local Public Schools Have We Learned Anything?
"This is a book for those who want a clear and comprehensive treatment of the sad history of schooling of First Nations children in the United States and Canada. Charles Glenn boldly exposes the embarrassing assumptions behind the policies and practices of educationalists, government bureaucrats, anthropologists, and racial virtuosos." - Elmer Thiessen, Research Professor of Education, Tyndale University College and Seminary