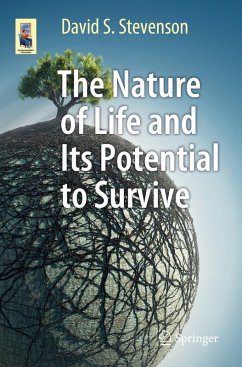 Andere Kunden interessierten sich
auch
für
Life, it seems, is almost indestructible. The chapters in this work examine the various scenarios that might lead to the extermination of life, and why they will almost always fail. Life's highly adaptive nature ensures that it will cling on no matter how difficult the circumstances.
Scientists are increasingly probing and questioning life's true limits in, on and above the Earth, and how these limits could be pushed elsewhere in the universe. This investigation puts life in its true astronomical context, with the reader taken on a journey to illustrate life's potential and perseverance.
---
Dieser Download kann aus rechtlichen Gründen nur mit Rechnungsadresse in A, B, BG, CY, CZ, D, DK, EW, E, FIN, F, GB, GR, HR, H, IRL, I, LT, L, LR, M, NL, PL, P, R, S, SLO, SK ausgeliefert werden.
Produktdetails
Verlag: Springer-Verlag GmbH
Erscheinungstermin: 25.05.2017
Englisch
ISBN-13: 9783319529110
Artikelnr.: 53033159
Preface.- Chapter 1 - What is Life?.- Chapter 2 - Life's Grand Themes.- Chapter 3 - The Origin of Life on Earth.- Chapter 4 - Life as the Evolution of Information.- Chapter 5 - Life Jim, But Not as We Know It.- Chapter 6 - Extinction.- Chapter 7- Agents of Mass Destruction.- Chapter 8 - Ultimately, Can Life Survive?.- Chapter 9 - A Thesis on Life, the Universe and Almost Everything Else.- Glossary.- Index.
"This book is part of Springer's Astronomer's Universe series and is an excellent read for anyone having broad interests. The author writes fluently with a light touch, making for an enjoyable read ... . Each chapter ends with a conclusion and references, and the book with a Glossary and Index. The breadth and depth of the coverage, weaving together geology, chemistry, and biology, make for a strong recommendation." (Peredur Williams, The Observatory, Vol. 138 (1267), December, 2018) "Stevenson, a scholar with a range of expertise, including molecular biology, genetics, and planetary science, combines these disciplines in a fascinating study of the perseverance of life. The book examines the intricacies of genetics, including how life could have begun from simple chemical processes and evolved to its present complexity-having expanded to fill an incredible variety of ecological niches. ... Summing Up: Highly recommended. Lower-division undergraduates and above." (M. K. Cleaveland, Choice, Vol. 55 (9), May, 2018)