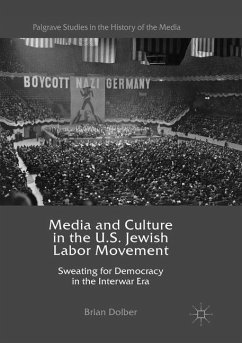 Produktdetails
Palgrave Studies in the History of the Media
Artikelnr. des Verlages: 978-3-319-82851-0
Softcover reprint of the original 1st ed. 2017
Seitenzahl: 272
Erscheinungstermin: 7. Juli 2018
Englisch
Abmessung: 210mm x 148mm x 14mm
Gewicht: 359g
ISBN-13: 9783319828510
ISBN-10: 3319828517
Artikelnr.: 53573004
1. Introduction.- 2. 'Digging in the Dark': The Forward's Advertising Strategy in the 1920s.- 3. 'Cutting the Pathway in the Wilderness and Confusion': Worker Education and the Garment Unions, 1919-1932.- 4. Moving Forward on the Air: The Birth of WEVD and the Rise of Commercial Radio.- 5. 'A Song of Social Significance': Jewish Labor, Mass Culture, and the New Deal.- 6. 'The Most Effective Weapon': Consumer Activism and the Jewish Labor Committee's Anti-Nazi Boycott.- 7. A 'Friendly Negotiation': Jewish Labor, the Newspaper Guild, and the Limits of the New Deal.- 8. Epilogue.

---