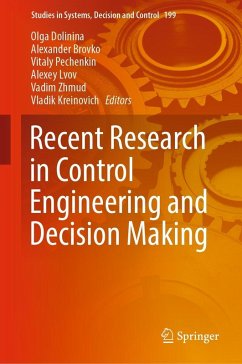 The book brings accepted papers which present new approaches and methods of solving problems in the sphere of control engineering and decision making for the various fields of studies: industry and research, ontology-based data simulation, smart city technologies, theory and use of digital signal processing, cognitive systems, robotics, cybernetics, automation control theory, image recognition technologies, and computer vision.
Particular emphasis is laid on modern trends, new approaches, algorithms and methods in selected fields of interest.
The presented papers were accepted after careful reviews made by at least three independent reviewers in a double-blind way. The acceptance level was about 60%. The chapters are organized thematically in several areas within the following tracks:
. Models, Methods & Approaches in Decision Making Systems
. Mathematical Modelling for Industry & Research
. Smart City Technologies
The conference is focused on development and globalization of information and communication technologies (ICT), methods of control engineering and decision making along with innovations and networking, ICT for sustainable development and technological change, and global challenges. Moreover, the ICIT-2019 served as a discussion area for the actual above-mentioned topics.
The editors believe that the readers will find the proceedings interesting and useful for their own research work.
---
Dieser Download kann aus rechtlichen Gründen nur mit Rechnungsadresse in A, B, BG, CY, CZ, D, DK, EW, E, FIN, F, GR, HR, H, IRL, I, LT, L, LR, M, NL, PL, P, R, S, SLO, SK ausgeliefert werden.
Produktdetails
Verlag: Springer-Verlag GmbH
Seitenzahl: 771
Erscheinungstermin: 28. Januar 2019
Englisch
ISBN-13: 9783030120726
Artikelnr.: 56819557
Data Protection During Remote Monitoring Of Person's State.- Principles of Managing the Process of Innovative Ideas Genesis.- Software Package for Modeling the Process of Fire Spread and People Evacuation in Premises.- Nonlinear Information Processing Algorithm For Navigation Complex With Increased Degree Of Parametric Identifiability.- The Task of Reducing the Cost of Production During Welding By Robotic Technological Complexes.- String Matching in Case of Periodicity in the Pattern.- High Generalization Capability Artificial Neural Network Architecture Based on RBF-network.- Dynamic System Model For Predicting Changes In University Indicators in the World University Ranking U-Multirank.- Optimization of the Hardware Costs of Interpolation Converters for Calculations in the Logarithmic Number System.- The Multi-Agent Method For Real Time Production Resource-Scheduling Problem.- Knowledge base engineering for industrial safety expertise: A model-driven development approach specialization.- Investigation of Hydroelasticity Coaxial Geometrically Irregular and Regular Shells Under Vibration.- Design Automation of Digital In-process Models of Parts of Aircraft Structures.- Using Convolutional Neural Networks in the Problem of Cell Nuclei Segmentation on Histological Images.- Numerical Study of Eigenmodes Propagation Through Rectangular Waveguide with Quarter-Wave Chokes on the Walls.