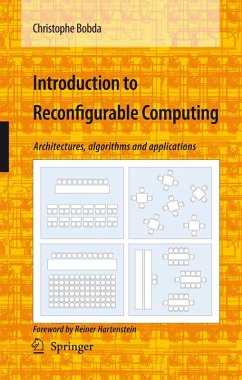 Andere Kunden interessierten sich
auch
für
Produktdetails
Verlag: Springer Netherlands
Artikelnr. des Verlages: 11784777
Erscheinungstermin: 15. Oktober 2007
Englisch
Abmessung: 241mm x 160mm x 26mm
Gewicht: 780g
ISBN-13: 9781402060885
ISBN-10: 1402060882
Artikelnr.: 22775133
Foreword. Preface. List of Figures. List of Tables. 1. INTRODUCTION. 1 General Purpose Computing. 2 Domain Specific Processors. 3 Application Specific Processors. 4 Reconfigurable Computing. 5 Fields of Application. 6 Organization of the book. 2. RECONFIGURABLE ARCHITECTURES. 1 Early Work. 2 Simple Programmable Logic Devices. 3 Complex Programmable Logic Device. 4 Field Programmable Gate Arrays. 5 Coarse-grained reconfigurable devices. 6 Conclusion. 3. IMPLEMENTATION. 1 Integration. 2 FPGA Design Flow. 3 Logic Synthesis. 4 Conclusion. 4. HIGH-LEVEL SYNTHESIS FOR RECONFIGURABLE DEVICES. 1 Modelling. 2 Temporal partitioning algorithms. 3 Conclusion. 5. TEMPORAL PLACEMENT. 1 Off-Line Temporal Placement. 2 On-Line Temporal Placement. 3 Managing the Device's Free Space with Empty Rectangles. 4 Managing the Device's Occupied Space. 5 Conclusion. 6. ON-LINE COMMUNICATION. 1 Direct Communication. 2 Communication Over Third Party. 3 Bus-based Communication. 4 Circuit Switching. 5 Network on Chip. 6 The Dynamic Network on Chip (DyNoC). 7 Routing Packets. 8 Analysis of efficiency. 9 DyNoC Implementation on FPGAs. 10 Conclusion. 7. PARTIAL RECONFIGURATION DESIGN. 1 Partial Reconfiguration on Virtex Devices. 2 Bitstream Manipulation with JBits. 3 The Modular Design Flow. 4 The Early Access Design Flow. 5 Creating partially reconfigurable designs. 6 Partial Reconfiguration using Handel-C Designs. 7 Platform design. 8 Enhancement in the Platform Design. 9 Conclusion. 8. SYSTEM ONA PROGRAMMABLE CHIP. 1 Introduction to SoPC. 2 Adaptive Multiprocessing on Chip. 3 Conclusion. 9. APPLICATIONS. 1 Pattern Matching. 2 Video Streaming. 3 Distributed Arithmetic. 4 Adaptive controller. 5 Adaptive Cryptographic Systems. 6 Software Defined Radio. 7 High Performance Computing. 8 Conclusion References. Appendices. A Hints to Labs. 1 Prerequisites. 2 Reorganization of the project Video8nonpr. B Party. C QuickPart-YTutorial.
The book by Christophe Bobda, however, has also been written for people with a software background, substantially reducing the educational leap by bridging the gap. His book has the potential to become a best-seller and to stimulate the urgently needed transformation of the software developer population's mind set, by playing a similar role as known from the famous historic Mead-&-Conway textbook for the VLSI design revolution.
Reiner Hartenstein, IEEE fellow,
Professor, TU Kaiserslautern "