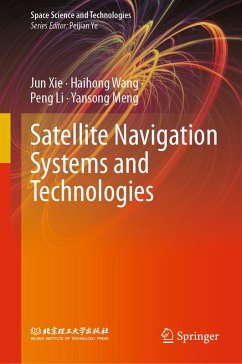 Based on the design theory and development experience of Beidou navigation satellite system (BDS), this book highlights the space segment and the related satellite technologies as well as satellite-ground integration design from the perspective of engineering. The satellite navigation technology in this book is divided into uplink and reception technology, broadcasting link technology, inter-satellite link technology, time-frequency system technology, navigation signal generation and assessment technology, navigation information management technology, autonomous operation technology of navigation satellite. In closing, the book introduces readers to the technological development status and trend of BDS and other GNSS, and propose the technologies of future development.
Unlike most current books on this topic, which largely concentrate on principles, receiver design or applications, the book also features substantial information on the role of satellite system in the GNSS and the process of signal information flow, and each chapter not only studies on the theoretical function and main technologies, but also focuses on engineering development. Accordingly, readers will gain not only a better understanding of navigation satellite systems as a whole, but also of their main components and key technologies.
---
Dieser Download kann aus rechtlichen Gründen nur mit Rechnungsadresse in A, B, BG, CY, CZ, D, DK, EW, E, FIN, F, GR, HR, H, IRL, I, LT, L, LR, M, NL, PL, P, R, S, SLO, SK ausgeliefert werden.
Produktdetails
Verlag: Springer-Verlag GmbH
Seitenzahl: 399
Erscheinungstermin: 31. Juli 2020
Englisch
ISBN-13: 9789811548635
Artikelnr.: 59903696
Es gelten unsere Allgemeinen Geschäftsbedingungen: www.buecher.de/agb
Impressum
www.buecher.de ist ein Shop der
buecher.de GmbH & Co. KG
Bürgermeister-Wegele-Str. 12,
86167 Augsburg
Amtsgericht Augsburg HRA 13309
Persönlich haftender Gesellschafter: buecher.de Verwaltungs GmbH
Amtsgericht Augsburg HRB 16890

Vertretungsberechtigte:
Günter Hilger, Geschäftsführer
Clemens Todd, Geschäftsführer

Sitz der Gesellschaft:Augsburg
Ust-IdNr. DE 204210010
---
Bitte wählen Sie Ihr Anliegen aus.