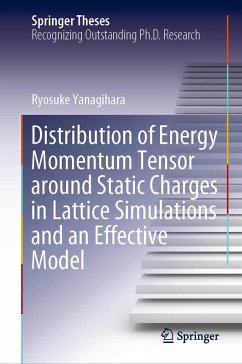 Andere Kunden interessierten sich
auch
für


This book presents the study on spatial EMT distributions around static charges via the gradient flow in lattice simulations based on SU(3) Yang-Mills theory. Static charges are employed as probes to explore complex quantum systems, and EMT then characterizes the response of vacuum as well as hot medium under the existence of the charges, which significantly provides profound and novel insights into the non-perturbative phenomena, such as the confinement of quarks. In addition, the book treats the study on the EMT distribution around a magnetic vortex in the Abelian-Higgs model, which is compared with the lattice result. These achievements open up various future studies for revealing non-trivial aspects of the strong interaction.

The book also includes well-organized reviews on general properties of EMT, lattice gauge theory and the gradient-flow formalism with its application to the definition of EMT. They are useful for students and young researchers as a brief introduction to this field.


Produktdetails
Springer Theses
Artikelnr. des Verlages: 978-981-16-6233-1
1st ed. 2021
Seitenzahl: 176
Erscheinungstermin: 23. Oktober 2021
Englisch
Abmessung: 241mm x 160mm x 15mm
Gewicht: 436g
ISBN-13: 9789811662331
ISBN-10: 9811662339
Artikelnr.: 62416245
Introduction.- Energy Momentum Tensor.- Lattice Field Theory.- Yang-Mills Gradient Flow and Energy Momentum Tensor.- Distribution of Energy Momentum Tensor around Single Static Quark in Deconfined Phase of SU(3) Yang-Mills Theory.- Distribution of Energy Momentum Tensor around Static Quark-Anti-Quark in Vacuum of SU(3) Yang-Mills Theory.- Distribution of Energy Momentum Tensor around Magnetic Vortex in Abelian-Higgs Model.- Summary and Outlook.- Appendix.