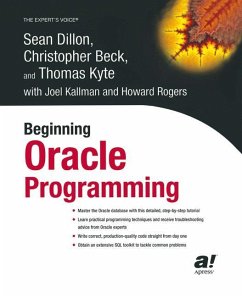 Andere Kunden interessierten sich
auch
für


Oracle is the world's leading relational database. It provides a rich environment to store, handle, and extract data and, when used properly, is the fastest and most scaleable database on which to build enterprise scale applications. However, with power comes complexity and mastering the Oracle database is not an overnight job. It takes time, practice, and a lot of real world experience. The authors of this book have that experience. They understand the challenges that are going to be met when developing an application or administering the database and can guarantee you that the techniques taught in this book are proven and have led them through many successful implementations.
Produktdetails
The Expert's Voice
Verlag: Apress
Softcover reprint of the original 1st ed
Seitenzahl: 1132
Erscheinungstermin: 29. September 2003
Englisch
Abmessung: 235mm x 191mm x 59mm
Gewicht: 2076g
ISBN-13: 9781590592861
ISBN-10: 1590592867
Artikelnr.: 12492607
Getting To Know Oracle.- SQL Plus and Basic Querying.- Creating and Managing Users and Tables.- The New 9i Sample Schemas.- Architecture.- Processing Statements in Oracle.- Tables.- Indexes.- Mastering SQL Plus.- PL/SQL.- Procedures, Functions, and Packages.- Transactions and Concurrency.- Security.- Views.- Triggers.- Objects.- Advanced Querying.- Tuning Tools.- A SQL Toolkit.- Case Study 1 Debugging PL/SQL.- Case Study 2 Finding People.