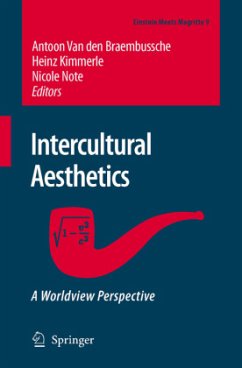 Andere Kunden interessierten sich
auch
für


The book is divided into two parts, yet one can sense a clear unity throughout the whole book. This unity is related to the underlying subject that the different authors, each in their own way and from their own background, try to reveal. They use related, and overlapping terms such as 'the suchness of things', 'dancing and shaping lives', 'presenting a meaning beyond words, presenting the unpresentable, experiencing', in order to bring to our awareness the genuine importance of the non-conceptual, next to the conceptual. Several authors moreover take on a reflective, and at times even a self-reflective stance, pointing to the intrinsic relation between cultural aesthetics and ethics, making this book unique in its kind.

Produktdetails
Einstein Meets Magritte Vol.9
Verlag: Springer Netherlands
Artikelnr. des Verlages: 12977659.
Softcover reprint of hardcover 1st ed. 2009
Seitenzahl: 224
Erscheinungstermin: 30. November 2010
Englisch
Abmessung: 235mm x 155mm x 12mm
Gewicht: 349g
ISBN-13: 9789048171385
ISBN-10: 9048171385
Artikelnr.: 32758504
Intercultural aesthetics: an introduction
Part one: Towards an intercultural aesthetics.
An intercultural approach to a world aesthetics. Grazia Marchianò.
Living - in between - Cultures. Downscaling Intercultural Aesthetics to Daily Life. Henk Oosterling.
Living (with) Art. The African aesthetic worldview as an inspiration for the Western Philosophy of Art. Heinz Kimmerle.
The Origins of Landscape Painting: An Intercultural Perspective. Heinz Paetzold.
Nishida, Aesthetics and the Limits of Cultural Synthesis. Robert Wilkinson.
Identity and Hybridity - Chinese Art and Aesthetics in the Age of Globalization. Karl-Heinz Pohl.
The Rasa Theory: A challenge for Intercultural Aesthetics. Rosa Fernandez.
Part two: Trauma and visual art in an intercultural perspective
Presenting the Unpresentable. On trauma and Visual Art. Antoon Van den Braembussche.
Bisual Archives and the Holocaust: Christian Boltanski, Ydessa Hendeles, Peter Forgacs. Ernst van Alphen.
Art in the Face of Radical Evil.Thierry de Duve.
Distant Laughter: the Poetics of Dislocation. Jean Fisher.
There you end and I begin - the multiple ethics of contemporary art and practice. Pam Johnston.
The Ethics of the Wound. Everlyn Nicodemus.