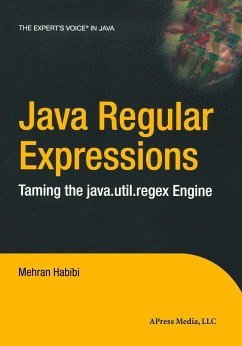 Andere Kunden interessierten sich
auch
für
---
Expert author Habibi offers a look at what regular expressions are and how to use the Java library to process them. His book uses plenty of examples to show typical and atypical uses of the library, thus becoming a powerful learning tool. For instance, comprehensive examples for each and every regex method and class are given, along with advice on their appropriate use and performance considerations.
Produktdetails
Expert's Voice
Softcover Repri
Seitenzahl: 255
Erscheinungstermin: Februar 2004
Englisch
Abmessung: 238mm x 180mm x 19mm
Gewicht: 540g
ISBN-13: 9781590591079
ISBN-10: 1590591070
Artikelnr.: 12146453
Introduction

Part I: The Basics. Introduction to Regular Expressions
- Patterns: The Syntax of the Language
- Operations
- Advanced Regular Expressions
- Greedy Qualifiers
- More on Grouping
- Putting Regular Expressions Together
- Differences from Perl
- FAQs

Part II: Regular Expression Objects in Java. Introduction to Regex Objects in Java
- The Pattern Class
- The Matcher Class
- The String Class
- Compiling Patterns
- Operations
- Groups and Captures
- Advanced Topics
- FAQs

Part III: Examples. FAQs
- Appendices.
From the reviews:

"At long last, a book devoted to regular expressions in Java. ... author Mehran Habibi does a pretty good job ... . lots of examples, with clear coding and an annotated explanation ... . for those who want to get the most out of the regular expressions this is worth having around. ... Having covered all of the core concepts and methods ... . appendices provide some additional reference material, concluding with a set of common useful patterns. ... the book does provide a very firm grounding ... ." (techbookreport.com, March, 2004)