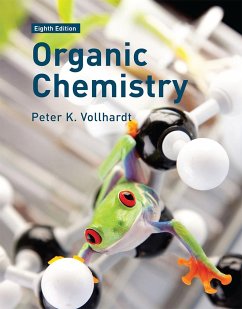 Andere Kunden interessierten sich
auch
für

The eighth edition presents a refined methodology, rooted in teaching expertise to promote student understanding and build problem solving skills.
Paired with SaplingPlus, students will have access to an interactive and fully mobile ebook, interactive media features and well respected Sapling tutorial style problems-Where every problem emphasizes learning with hints, targeted feedback and detailed solutions as well as a unique pedagogically focused drawing tool.

Produktdetails
Artikelnr. des Verlages: 978-1-319-18771-2
8th ed.
Seitenzahl: 1200
Erscheinungstermin: 23. Februar 2018
Englisch
Abmessung: 284mm x 225mm x 50mm
Gewicht: 2894g
ISBN-13: 9781319187712
ISBN-10: 1319187714
Artikelnr.: 49274888
1. Structure and Bonding in Organic Molecules.- 2. Structure and Reactivity: Acids and Bases, Polar and Nonpolar Molecules.- 3. Reactions of Alkanes: Bond-Dissociation Energies, Radical Halogenation, and Relative Reactivity.- 4. Cycloalkanes.- 5. Stereoisomers.- 6. Properties and Reactions of Haloalkanes: Bimolecular Nucleophilic Substitution.- 7. Further Reactions of Haloalkanes: Unimolecular Substitution and Pathways of Elimination.- 8. Hydroxy of Functional Group: Alcohols: Properties, Preparation, and Strategy of Synthesis.- 9. Further Reactions of Alcohols and the Chemistry of Ethers.- 10.Using Nuclear Magnetic Resonance Spectroscopy to Deduce Structure.- 11. Alkenes: Infrared Spectroscopy and Mass Spectrometry.- 12. Reactions to Alkenes.- 13. Alkynes: The Carbon.- 14. Delocalized Pi Systems: Investigation by Ultraviolet and Visible Spectroscopy Interlude.- 15. Benzene and Aromaticity: Electrophilic Aromatic Substitution.- 16. Electrophilic Attack on Derivatives of Benzene: Substituents Control Regioselectivity.- 17. Aldehydes and Ketones: The Carbonyl Group.- 18. Enols, Enolates, and the Aldol Condensation: a,b-Unsaturated Aldehydes and Ketones.- 19. Carboxylic Acids.- 20. Carboxylic Acid Derivatives.- 21. Amines and Their Derivatives: Functional Groups Containing Nitrogen.- 22. Chemistry of the Benzene Substituents: Alkylbenzenes, Phenols, and Benzenamines.- 23. Ester Enolates and the Claisen Condensation: Synthesis of b-Dicarbonyl Compounds; Acyl Anion Equivalents.- 24. Carbohydrates: Polyfunctional Compounds in Nature.- 25. Heterocycles: Heteroatoms in Cyclic Organic Compounds.- 26. Amino Acids, Peptides, Proteins, and Nucleic Acids: Nitrogen-Containing Polymers in Nature.