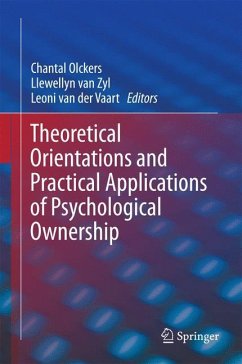 Produktdetails
Artikelnr. des Verlages: 978-3-319-70246-9
1st ed.
Seitenzahl: 352
Erscheinungstermin: 14. Dezember 2017
Englisch
Abmessung: 241mm x 159mm x 27mm
Gewicht: 708g
ISBN-13: 9783319702469
ISBN-10: 3319702467
Artikelnr.: 49245390
Chapter 1. Psychological ownership research and measurement: A literature review.-
Chapter 2.Psychological ownership in corporate South Africa: An Ubuntu and social identity perspective.-
Chapter 3. Climate Change? Exploring the role of organizational climate for psychological ownership.-
Chapter 4. Linking psychological ownership with subjective career success and positive work-related outcomes.-
Chapter 5. Investigation of psychological ownership, work engagement and happiness in a professional services industry.-
Chapter 6. Positive psychological interventions aimed at enhancing psychological ownership.-
Chapter 7. Psychological ownership and joy of work in the family business context.-
Chapter 8. The role of leadership in the development of psychological ownership in organisations.-
Chapter 9. Enhancing primary school teacher students' psychological ownership in teaching music.-
Chapter 10. Psychological ownership and hermeneutics of information.-
Chapter 11. The dark side of psychological ownership in a multi-cultural work context.-
Chapter 12. Psychological ownership in family-owned businesses: A cross-cultural approach.-
Chapter 13. Exploring psychological ownership towards groups and its routes in the French military sector.-
Chapter 14. Psychological ownership and sport consumerism: Meta-theory and application in the South African context.-
Chapter 15. Exploring the relationship between positive leadership and psychological ownership in a multi-cultural context: A theoretical study.-
Chapter 16. Future perspectives on psychological ownership in multi-cultural contexts.