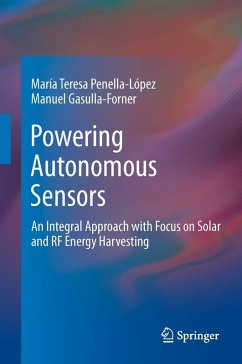 Andere Kunden interessierten sich
auch
für
An integral approach for powering autonomous sensors by considering both primary batteries and energy harvesters is presented. Two rather different forms of energy harvesting are also dealt with: optical (or solar) and radiofrequency (RF). Optical energy provides high energy density, especially outdoors, whereas RF remote powering is possibly the most feasible option for autonomous sensors embedded into the soil or within structures. Throughout different chapters, devices such as primary and secondary batteries, supercapacitors, and energy transducers are extensively reviewed. Then, circuits and methods found in the literature used to efficiently extract and gather the energy are presented. Finally, new proposals based on the authors' own research are analyzed and tested. Every chapter is written to be rather independent, with each incorporating the relevant literature references.
Powering Autonomous Sensors is intended for a wide audience working on or interested in the powering of autonomous sensors. Researchers and engineers can find a broad introduction to basic topics in this interesting and emerging area as well as further insights on the topics of solar and RF harvesting and of circuits and methods to maximize the power extracted from energy transducers.
---
Dieser Download kann aus rechtlichen Gründen nur mit Rechnungsadresse in A, B, BG, CY, CZ, D, DK, EW, E, FIN, F, GR, HR, H, IRL, I, LT, L, LR, M, NL, PL, P, R, S, SLO, SK ausgeliefert werden.
Produktdetails
Verlag: Springer-Verlag GmbH
Seitenzahl: 147
Erscheinungstermin: 18. Mai 2011
Englisch
ISBN-13: 9789400715738
Artikelnr.: 38385834
Abstract
Chapter 1 - Introduction
Chapter2 - Load
Chapter3 - Ambient Energy Sources
Chapter4 - Energy Storage
Chapter5 - Solar Energy Harvesting
Chapter6 - RF Energy Harvesting
The new book
Powering Autonomous Sensors
: An Integral Approach with Focus on Solar and RF Energy Harvesting provides an engaging look into the world of the Smart Powering of Wireless Systems.
The book covers the full chain of energy-processing steps for wireless autonomous sensors, i.e. sensors that are able to operate reliably with a minimum amount of power harvested from the environment. The use of various ambient energy sources available is analyzed. Methods and circuits for the efficient storage of harvested energy in batteries and capacitors are analyzed and evaluated, with detail provided for optical and RF harvesters. Circuits and systems are proposed, evaluated and tested with simulations and/or experiments performed by the authors. The main focus is the optimization of favorable circuits for low-power applications.
This work is an excellent introduction for anyone starting to work in this relatively new field of research. It is unique in its clear and consistent approach to evaluating the opportunities for and problems with energy management for low-power sensors. The many tables with features and typical component values provided by the suppliers and completed with experiment results, make it easy for readers to make a quantitative analysis by themselves.
This work is very suitable not only as an introduction for researchers, but also as study guide for graduate and post-graduate students, and postdocs.
Prof. Dr. Ir.

Gerard C.M. Meijer, Delft University of Technology, The Netherlands