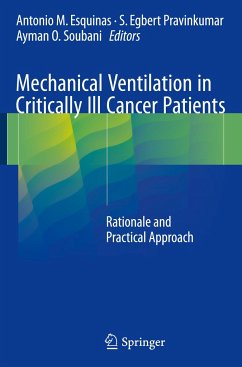 Produktdetails
Artikelnr. des Verlages: 978-3-319-49255-1
1st ed. 2018
Erscheinungstermin: März 2018
Englisch
Abmessung: 244mm x 159mm x 25mm
Gewicht: 838g
ISBN-13: 9783319492551
ISBN-10: 3319492551
Artikelnr.: 46170265
Part I. Background and Therapeutic Procedures in Critically Ill Cancer Patients.- Epidemiology of Acute Respiratory Failure.- Acute Respiratory Failure in Different Settings.- Chemotherapy.- Radiation Therapy.- Blood Marrow Transplantation.- Bronchoscopy.- Non-bronchoscopic Procedures.- Invasive and Interventional Procedures.- Part II. Invasive Mechanical Ventilation.- Rationale.- Mechanical Ventilatory Modes.- Part III. Non-invasive Mechanical Ventilation.- Nasal High-Flow System.- Devices.- Continuous Positive Airway Pressure (CPAP).- Bilevel Positive Airway Pressure.- Indications and Contraindications.- Determinants of Success or Failure.- NIV Outcome Decision Algorithm.- Part IV. Postoperative Mechanical Ventilation.- General Postoperative Complications.- Mechanical Ventilation After Neurosurgery.- Mechanical Ventilation After Cardiothoracic Surgery.- Mechanical Ventilation After Thoracic Surgery.- Mechanical Ventilation After Abdominal Surgery.- Mechanical Ventilation After Orthopedic Surgery.- Part V. Withdrawal from Mechanical Ventilation Support.- Weaning from Mechanical Ventilation.- Tracheotomy.- Analgesia/Sedation.- Venous Thromboembolic and Gastrointestinal Prophylaxis.- Chest Physiotherapy.- Nutrition.- Long-Term Mechanical Ventilation.- Part VI. Palliative Ventilatory Support in Cancer Critical Care.- Palliative Care.- Avoidance of Endotracheal Intubation.- End-of-life Care. Part VII. Healthcare Resource Utilization and Organizational Support in Cancer Critical Care.- Organization of Ventilatory Support.- Healthcare Resources Ventilatory Support.- Quality-of-Life Ventilatory Support.- Mechanical Ventilation: Current Evidence and Evidence-Based Practice.
"This book is devoted to the identification and management of respiratory complications in critically ill cancer patients. … Critical care providers encountering patients with advanced malignancy and multimodal therapy are an appropriate audience for this international work. … This book provides effective background on mechanical pulmonary support and the challenges of oncology patients." (David J. Dries, Doody's Book Reviews, April, 2018)