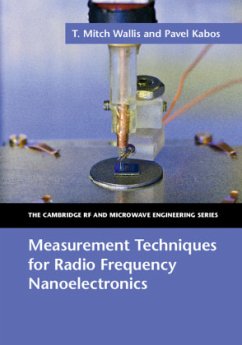 Produktdetails
The Cambridge RF and Microwave Engineering Series
Verlag: Cambridge University Press
Erscheinungstermin: 30. November 2017
Englisch
Abmessung: 254mm x 177mm x 20mm
Gewicht: 793g
ISBN-13: 9781107120686
ISBN-10: 1107120683
Artikelnr.: 48063228
1. An introduction to radio frequency nanoelectronics; 2. Core concepts of microwave and RF measurements; 3. Extreme-impedance measurements; 4. On-wafer measurements of RF nanoelectronic devices; 5. Modeling and validation of RF nanoelectronic devices; 6. Characterization of nanofiber devices; 7. Instrumentation for near-field scanning microwave microscopy; 8. Probe-based measurement systems; 9. Radio frequency scanning probe measurements of materials; 10. Measurement of active nanoelectronic devices; 11. Dopant profiling in semiconductor nanoelectronics; 12. Depth profiling; 13. Dynamics of nanoscale magnetic systems; 14. Nanoscale electromagnetic measurements for life science applications.
'This book is an invaluable resource for understanding the field of RF nanoelectronics and the challenges and practice of high frequency measurement technology at the nanoscale. It provides a comprehensive overview of how RF measurement techniques and nanotechnology measurement methodology have merged to realize new technologies such as near-field scanning microwave microscopy and RF scanning probe microscopy, as well as looking at practical applications in nanoscale semiconductor devices and circuits, nanomagnetic systems and the life sciences. The book is a very state-of-the-art treatise on the field of microwave technology at the nanoscale, which every student and practitioner in the field of RF nanoelectronics should have.' Stephen M. Goodnick, Arizona State University