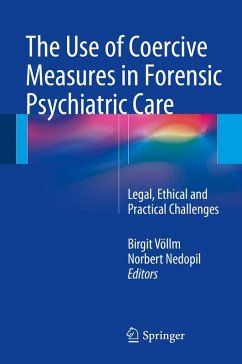 Andere Kunden interessierten sich
auch
für
The use of coercive measures, in particular restraint, seclusion, and involuntary medication, for the control of aggression in psychiatry remains controversial. Forensic mental health care deals with individuals who pose a risk to others and often present with significant management problems within institutions. The care of patients in these settings gives rise to debates about the balance between care and safety, and between the interests of the patients and those of the wider society to be protected. Despite these tensions, limited research has been conducted specifically on the use of coercive measures in forensic mental health care. This volume aims to fill the gap and will be of value to all professionals working in forensic psychiatric settings as well as to those working in general psychiatric and custodial settings, law professionals, and patients.
---
Dieser Download kann aus rechtlichen Gründen nur mit Rechnungsadresse in A, B, BG, CY, CZ, D, DK, EW, E, FIN, F, GB, GR, HR, H, IRL, I, LT, L, LR, M, NL, PL, P, R, S, SLO, SK ausgeliefert werden.
Produktdetails
Verlag: Springer-Verlag GmbH
Erscheinungstermin: 02.05.2016
Englisch
ISBN-13: 9783319267487
Artikelnr.: 46932515
Introduction.- Part I The Context.- International human rights and institutional forensic psychiatry: The core issues.- Legal aspects of the use of coercive measures in psychiatry.- Sociological perspectives of coercion in psychiatry.- Wise restraints: Ethical issues in the coercion of forensic patients.- An international perspective on the use of coercive measures.- Part II Coercion in different settings . - The use of coercive measures in general psychiatric settings.- Special considerations in forensic psychiatry.- The uses of coercive measures in forensic psychiatry - a literature review.- Coercion in forensic healthcare: A North-American perspective.- The use of coercion in prison settings.- Part III The experience of coercion. - Staff attitudes towards seclusion and restraint in forensic settings.- Staff experiences of using coercive measures: "You can't tell people who don't understand".- Patient experience of coercive measures.- Service user - Coercion concern .- Part IV Practical challenges.- Best practices for reducing the use of coercive measures.- Mechanical restraint: Legal, ethical and clinical issues.