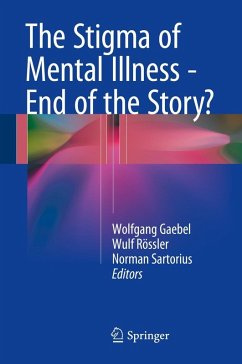 Andere Kunden interessierten sich
auch
für
---
Dieser Download kann aus rechtlichen Gründen nur mit Rechnungsadresse in A, B, BG, CY, CZ, D, DK, EW, E, FIN, F, GB, GR, HR, H, IRL, I, LT, L, LR, M, NL, PL, P, R, S, SLO, SK ausgeliefert werden.
Produktdetails
Verlag: Springer-Verlag GmbH
Erscheinungstermin: 10.08.2016
Englisch
ISBN-13: 9783319278391
Artikelnr.: 46943067
Part I: Introduction.- Part II: Stigma and discrimination - different perspectives.- History.- A psychiatry-specific phenomenon.- Types of stigma and mechanisms.- Stigma in different cultures.- Disorder-specific differences.- Who is affected?.- Who is contributing?.- Impact on provision and use of services for mental and physical disorders.- Influence on illness course.- Changes of stigma over time (with emphasis on the past 30 years).- The viewpoint of consumers.- The viewpoint of families.- A human rights perspective.- Part III: "Fighting" stigma and discrimination - current practice and knowledge: Country perspectives: Europe.- Canada.- New Zealand.- Commentaries: What has proven effective.- What is not effective.- Part IV: Overcoming stigma and discrimination - new approaches: Fields of intervention.- Techniques.- Bottom up vs top down.- Illness models.- Treatment, prevention, rehabilitation.- Recovery.- Renaming.- Trialogue.- Empowerment, Inclusion.- Legal changes.- Part V: Contribution of international agencies: European Psychiatric Association.- Council of Europe.- WHO in Europe (European Mental Health Action Plan).- WHO worldwide (Global Mental Health Action Plan).- World Psychiatric Association.- Part VI: Conclusion and Recommendations.
"It will be an excellent resource for those wanting to know more about how stigma became a focus of research. ... In summary, this large volume ... will serve as a resource for students, researchers, and community activists. It provides a wealth of multicultural perspectives that is truly refreshing in its scope and hopeful messages." (Andrew Nocita, PsycCRITIQUES, Vol. 62 (13), March, 2017)

"This book significantly contributes to the evolution of the deficient not only social but also intellectual belief (or judgment) about mental illness, psychiatry patients, as well as everyone included in their recovery ... . I consider this book to be convenient for all the people interested in mental health, weather professionals or non-professionals. I feel the need to congratulate the author for an exquisite work." (Daniela Vojnovic, Alcoholism and Psychiatry Research, Vol. 53 (2), 2017)