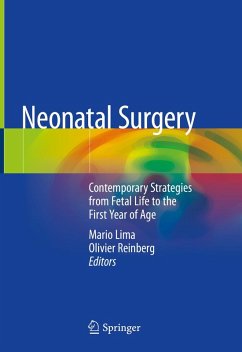 Andere Kunden interessierten sich
auch
für
---
Dieser Download kann aus rechtlichen Gründen nur mit Rechnungsadresse in A, B, BG, CY, CZ, D, DK, EW, E, FIN, F, GR, HR, H, IRL, I, LT, L, LR, M, NL, PL, P, R, S, SLO, SK ausgeliefert werden.
Produktdetails
Verlag: Springer-Verlag GmbH
Erscheinungstermin: 13.04.2019
Englisch
ISBN-13: 9783319935348
Artikelnr.: 56248790
What is a neontal surgeon.- General: Perinatal physiology and general clinical characteristics of newborns. Perinatal management and care of surgical neonates (include nutritional support). Anesthesiological considerations: stabilization of the neonate, fluid administration, electrolyte balance, vascular access, ECMO, bronchoscopy, pain in neonates. Imaging in neonates. Training in neonatal surgery and simulation models. Minimal invasive surgery in the neonate.- Head and Neck: Choanal atresia. Facial clefts and Pierre Robin Sequence. Macroglossia. Congenital cysts and sinuses of the neck.- Chest: Congenital thoracic deformities. Mediastinal masses. Pneumothorax and chylothorax. Congenital malformations of the lung. Congenital diaphragmatic hernia. Esophageal atresia and congenital stenosis.- Gastrointestinal: Gastro-esophageal reflux. Hypertrophic pyloric stenosis and other pyloric affections. Gastric volvulus. Intestinal atresias and stenosis. Meconium ileus and peritonitis. Duplications of the alimentary tract. Mesenteric and omental cysts. Necrotizing enterocolitis. Hirschsprung's disease. Anorectal malformations. Congenital pouch colon. Inguinal hernia, cysts, hydroceles. Malrotations and volvulus.- Liver and Biliary Tract: Biliary atresia. Hepatic cysts. Choledocal cyst and congenital biliary dilatation. Anterior Abdominal Wall Defects: Omphalocele and gastroschisis. Omphalomesenteric duct remnants. Bladder exstrophy. Cloacal exstrophy. Prune belly syndrome.- Tumors: General considerations. Teratoma: cervical and sacrococcygeal. Neuroblastoma. Hepatic tumors. Wilms' tumor. Neonatal ovarian tumors.- Genitourinary: Hydronephrosis. Multicystic dysplastic kidney. Vesico-ureteral reflux. Ureteroceles. Posterior urethral valves. Hydrometrocolpos. DSD. Male genital anomalies. Nervous System: Surgical treatment of central nervous system malformations. Congenital CNS tumors.- Miscellaneous: Angioma and vascular tumors. Use of the Vacuum Assisted Closure.