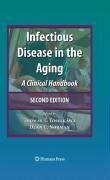 ---
Dieser Download kann aus rechtlichen Gründen nur mit Rechnungsadresse in A, B, BG, CY, CZ, D, DK, EW, E, FIN, F, GB, GR, HR, H, IRL, I, LT, L, LR, M, NL, PL, P, R, S, SLO, SK ausgeliefert werden.
Produktdetails
Verlag: Springer-Verlag GmbH
Erscheinungstermin: 12.06.2009
Englisch
ISBN-13: 9781603275347
Artikelnr.: 37352309
Concepts and Principles of Infections and Aging.- Epidemiology of Aging and Infectious Diseases.- Factors Predisposing to Infection.- Clinical Features of Infection.- Role and Importance of Functional Assessment in Infections.- Principles of Antimicrobial Therapy.- Common Infections.- Sepsis.- Bronchitis and Pneumonia.- Tuberculosis in Older Adults.- Infective Endocarditis.- Intra-abdominal Infections.- Infectious Diarrhea.- Urinary Tract Infection.- Bacterial Meningitis and Brain Abscess.- Osteomyelitis and Septic Arthritis.- Skin and Soft Tissues Infections.- Herpes Zoster.- Orofacial and Odontogenic Infections in the Elderly.- Ocular Infections.- Otitis Externa, Otitis Media, and Sinusitis.- Prosthetic Joint Infections in Elderly Patients.- Staphylococcal and Enterococcal Infections.- Fungal Infections.- Viral Infections.- Special or Unique Infectious Disease Problems.- Infections in the Long-Term Care Setting.- Infection Control Programs in Nursing Homes.- Infections in Diabetics.- Vaccinations.- Nutrition and Infection.- Sexually Transmitted Diseases.- Human Immunodeficiency Virus/Acquired Immunodeficiency Syndrome.- SARS and West Nile Virus.
From the reviews: "This book is subdivided into three well-organized sections: concepts and principles of infection among the aged (including a review of the changing immune systems of the elderly and an overview of recent epidemiologic trends among the elderly); chapters on common infectious diseases (i.e., endocarditis, UTIs); and chapters on unique concerns among elderly such as management of infections in the long-term care setting. The greatest strengths are in the areas not covered in most texts: immunization, prevention, and altered pharmacodynamics. . .The references and index are well organized and contain up-to-date references. . .This is an excellent quick review of the pertinent infectious diseases issues among the geriatric population. . .The value of this text is enhanced by the topics covered that are often overlooked in others including multi-drug-resistant bacterial infections, long-term care-related problems, and immunization issues among the elderly." - (Doody's Health Sciences Book Review Journal) "The second section of the book, which deals with specific infections , has some very useful and well-written chapters. The chapter on sepsis is up-to-date and informative. The chapter on tuberculosis is an excellent and relevant source of information about this disease in elderly people. The chapter on intra-abdominal infections is also informative, as is the chapter on urinary tract infections. The chapter on viral infections is well written... The chapter on
nutrition and infection gives an excellent overview of nutrition in the elderly population and its effect on the immune system....I would recommend this book to general-medicine physicians who treat elderly patients." - (Clinical Infectious Diseases) From the reviews of the second edition: "The second edition ... is well written and comprehensive and covers a wide variety of topics related to infections in older persons. ... a reference guide for training and for developing policies and procedures for infection control. It also is intended to ... general practitioners, residents, fellows, and geriatricians in private practice as well as in academic settings. ... a useful contribution to the literature of geriatric medicine. ... an excellent reference for fellows and attending physicians caring for older persons ... ." (Aman Nanda, Journal of the American Medical Association, Vol. 303 (2), January, 2010) "This is the second edition of a multiauthored clinical handbook on infectious diseases in older persons. ... The audience is clinicians and their trainees who treat infections in older persons, infection control specialists, pharmacists, and long-term care medical directors. ... This is a thorough and lucid review of an important area of geriatric medicine. ... Excellent illustrations and useful tables and algorithms appear throughout the book. ... It is a most useful reference and deserves a wide readership." (David O. Staats, Doody's Review Service, May, 2010) "Thirty-one chapters averaging 16 pages and written by 41 North American authors make up what is aptly called a handbook. ... it is highly relevant to clinical practice and doctors at all stages of their career have much to learn from the book. There is a good discussion about what constitutes fever in old age and its significance. ... Differences between the UK and North America make the book all the more interesting and worth a place on the shelf of a departmental library." (Kalman Kafetz, Age and Ageing, December, 2010) "The handbook contains a framework of principles and general tenets of infectious disease and infectious disease treatment. ... the authors have provided smooth reading as befits a handbook. ... this nicely done compendium from Drs. Yoshikawa and Norman and their colleagues will find utility in the medical conference room or library." (William J. Vicic, Care Management Journals, Vol. 12 (3), 2011)