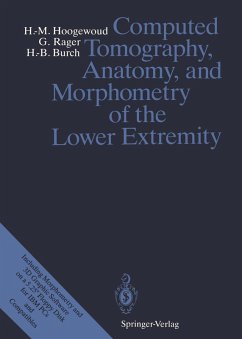 Produktdetails
Verlag: Springer, Berlin
Softcover reprint of the original 1st ed. 1990
Seitenzahl: 140
Erscheinungstermin: 22. November 2011
Englisch
Abmessung: 270mm x 193mm x 7mm
Gewicht: 320g
ISBN-13: 9783642746512
ISBN-10: 3642746519
Artikelnr.: 36119553
Material and Techniques.- CT Scanning.- Anatomical Sections.- Atlas.- Measurements of the Lower Extremity.- The Anteversion Angle.- The Center-Collum-Diaphysis Angle.- The Center-Edge Angle.- The Distance Between the Facies Patellaris Femoris Groove and the Tuberositas Tibiae.- Knee Rotation.- Torsion of the Tibia.- The Length and Axis of Bones.- Coverage of the Femoral Head.- Existing Methods.- Programs on the Disk.- Hardware Required.- Data Sources.- Scanning Technique.- What to Measure?.- Data Sampling.- Data Processing.- Normal Values.- Three-Dimensional Graphics Software.- Comments.- References.- Selected Reading.