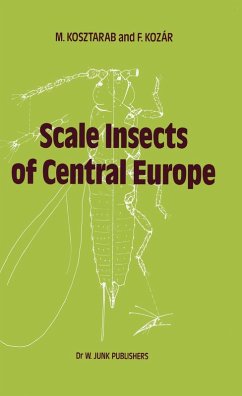 Andere Kunden interessierten sich
auch
für
` The book is well executed and meets with the desired objectives of enabling biologists to recognize and identify the scale insects, and provide a reference guide to the taxonomy and biology of scale insects of Central Europe. It should prove useful to a specialist as a reference guide and entomologists interested to have an information manual on scale insects, and to economic entomologists and nurserymen who desire to identify and obtain information on the scale insects affecting their plants. ' -- V. Gupta, Oriental Insects Vol. 23, 1989.
---
This book is dedicated to the scientists whose professional devotion and accomplish ments in research on scale insects of the area made the compilation of this book possible. This book has two primary objectives: (1) to enable interested workers, who are not specialists of scale insects, to recognize and indentify these to families, genera and species; and (2) to provide information on the life cycle, host-plant range, natural enemies, geographical distribution, economic importance for each known species from Central Europe, and to provide a bibliography on each taxa covered. Scale insects are important pests of fruit and nut trees, forest vegetation, woody ornamentals, greenhouse and indoor plants. World-wide losses and increased production costs attributed to scale insects are estimated to reach $5 billion annually. It is difficult to recognize them because of their microscopic size and hidden habits. Identification of pest species enables plant growers to check appropriate reference sources for biological information and to select control methods.
Produktdetails
Series Entomologica 40
Verlag: Springer / Springer Netherlands
Artikelnr. des Verlages: 978-94-010-8295-2
1988
Seitenzahl: 476
Erscheinungstermin: 20. November 2013
Englisch
Abmessung: 235mm x 155mm x 25mm
Gewicht: 715g
ISBN-13: 9789401082952
ISBN-10: 9401082952
Artikelnr.: 39916630
I. General part.- List of abbreviations.- General morphology of Coccinea.- Life cycle, biology and dispersal.- Genetics and endosymbionts.- Phylogeny.- Ecology of scale insects in Central Europe.- Geographical distribution.- Economic importance.- Forecasting and control.- Collecting, preserving, mounting and rearing of Coccinea.- II. Systematic part.- Classification.- Key to suborders of Homoptera in Central Europe.- Key to superfamilies and families of Coccinea in Central Europe.- Superfamily Orthezioidea - Primitive Coccoids.- Family Ortheziidae - Ensign Scales.- Family Margarodidae - Giant Scales.- Superfamily Coccoidea - Advanced Coccoids.- Family Pseudococcidae - Mealybugs.- Family Coccidae - Soft Scales, Coccids.- Family Aclerdidae - Flat Grass Scales.- Family Kermesidae - Gall-like Scales.- Family Cryptococcidae - Bark-crevice Scales.- Family Eriococcidae - Felt Scales, Eriococcid Scales.- Family Lecanodiaspididae - False Pit Scales, Lecanodiaspidids.- Family Cerococcidae - Ornate Pit Scales, Cerococcids.- Family Asterolecaniidae - Pit Scales.- Family Diaspididae - Armored Scales.- III. Appendix.- IV. Cited references.- V. Distribution of scale insects discussed in this book.- VI. Index to host plants.- VII. Index to parasites, predators, ants and other associated organisms.- VIII. Index to scale insect names.