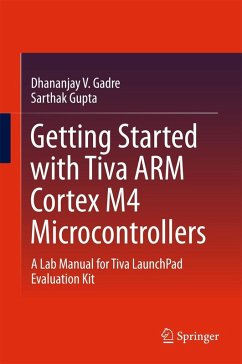 ---
Dieser Download kann aus rechtlichen Gründen nur mit Rechnungsadresse in A, B, BG, CY, CZ, D, DK, EW, E, FIN, F, GB, GR, HR, H, IRL, I, LT, L, LR, M, NL, PL, P, R, S, SLO, SK ausgeliefert werden.
Produktdetails
Verlag: Springer-Verlag GmbH
Erscheinungstermin: 16.10.2017
Englisch
ISBN-13: 9788132237662
Artikelnr.: 52937944
Introduction.- ARM Cortex-M4 Core and Tiva C Series Peripherals.- Tiva C Series LaunchPad.- PadmaBoard-Peripheral Motherboard of Tiva C Series LaunchPad.- Tiva C Series Controller Breakout Board(BOB).- GNU ARM Toolchain.- Anatomy of C Program.- Application Programming Interface (API).- Digital Input/Output.- Interrupts.- Timers.- Universal Asynchronous Receiver and Transmitter (UART).- Power Management and System Control.- Analog to Digital Converter(ADC).- User Input/Output Devices.- Tiva C Series Based Standalone Projects.