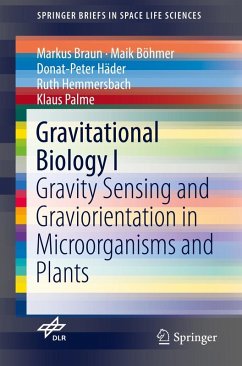 Andere Kunden interessierten sich
auch
für
th
century up to today's extremely rapid advancing cellular, molecular and biotechnological research. All forms of life are constantly exposed to gravity and it can be assumed that almost all organisms have developed sensors and respond in one way or the other to the unidirectional acceleration force,this books shows us some of these different ways.
The book is written for plant biologists and microbiologists as well as scientists interested in space and gravitational biology.
---
Dieser Download kann aus rechtlichen Gründen nur mit Rechnungsadresse in A, B, BG, CY, CZ, D, DK, EW, E, FIN, F, GB, GR, HR, H, IRL, I, LT, L, LR, M, NL, PL, P, R, S, SLO, SK ausgeliefert werden.
Produktdetails
Verlag: Springer-Verlag GmbH
Erscheinungstermin: 20.07.2018
Englisch
ISBN-13: 9783319938943
Artikelnr.: 56819026
Chapter 1: Gravity Sensing, Graviorientation and Microgravity.- Chapter 2: Methods for Gravitational Biology Research.- Chapter 3: Gravitaxis in Flagellates and Ciliates.- Chapter 4: Gravitropism in Tip-Growing Rhizoids and Protonemata of Characean Algae.- Chapter 5: Gravitropism in Fungi, Mosses and Ferns.- Chapter 6: Gravitropism in Higher Plants: Cellular Aspects.- Chapter 7: Gravitropism in Higher Plants: Molecular Aspects.- Chapter 8: Bioregenerative Life Support Systems in Space Research.
"I found this volume to be a well-written introduction to the topics of gravitropism, gravitaxis, and plant space biology. The book is recommended for new graduate students in the field of gravitational and space biology of plants and will provide a great overview to this group." (John Z. Kiss, Plant Science Bulletin, Vol. 64 (3), 2018)