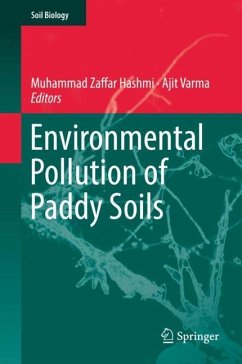 Andere Kunden interessierten sich
auch
für


This book provides an overview of our current understanding of paddy soil pollution, addressing topics such as the major types of pollutants in contaminated paddy soil ecosystems; factors affecting the fate of pollutants in paddy soil; biomonitoring approaches to assess the contaminated paddy soil; the impact of chemicals on soil microbial diversity; and climate change. It also covers arsenic and heavy metal pollution of paddy soils and their impact on rice quality. Further, new emerging contaminants such as antibiotics and antibiotics resistance genes (ARGs) in paddy soil and their impact on environmental health are also discussed. The last chapters focus on the bioremediation approaches for the management of paddy soils.


Produktdetails
Soil Biology .53
Artikelnr. des Verlages: 978-3-319-93670-3
1st ed. 2018
Erscheinungstermin: 6. Oktober 2018
Englisch
Abmessung: 241mm x 160mm x 21mm
Gewicht: 592g
ISBN-13: 9783319936703
ISBN-10: 3319936700
Artikelnr.: 52536785
- Major Pollutants of Contaminated Paddy Soils. - Problems and Prospects of Cultivating Indigenous Flood and Brackish Water-Resistant Varieties of Paddy in the Context of Projected Sea Level Rise: A Case Study from Karnataka, India. - Environmental Pollution of Soil and Anthropogenic Impact of Polymetallic Hydrothermal Extractions: Case Study-Bregalnica River Basin, Republic of Macedonia. - Sources of Organochlorine Pesticidal Residues in the Paddy Fields Along the Ganga-Brahmaputra River Basin: Implications for Long-Range Atmospheric Transport. - Antibiotics Pollution in the Paddy Soil Environment. - Antibiotics and Resistant Genes in Paddy Soil. - Paddy Land Pollutants and Their Role in Climate Change. - Impact of Pollutants on Paddy Soil and Crop Quality. - Paddy Soil Microbial Diversity and Enzymatic Activity in Relation to Pollution. - Arsenic in Paddy Soils and Potential Health Risk. - Risk Assessment of Heavy Metal Contamination in Paddy Soil, Plants, and Grains ( Oryza sativa L.). - Arsenic in Untreated and Treated Manure: Sources, Biotransformation, and Environmental Risk in Application on Soils: A Review. - Fate of Organic and Inorganic Pollutants in Paddy Soils. - Tolerance Mechanisms of Rice to Arsenic Stress. - Enzymes' Role in Bioremediation of Contaminated Paddy Soil. - Bioremediation of Contaminated Paddy Soil.