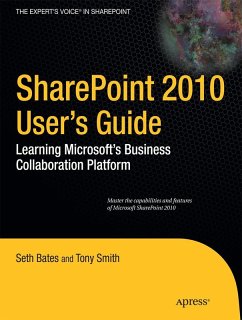 Andere Kunden interessierten sich
auch
für


This book is designed to provide you with the information you need to effectively use these tools. Whether you are using SharePoint as an intranet or business solution platform, you will learn how to use the resources (such as lists, libraries, and sites) and services (such as publishing, workflow, and policies) that make up these environments. Information and process owners will be given the knowledge they need to build and manage solutions. Information and process consumers will be given the knowledge they need to effectively use SharePoint resources.

In this book, Seth Bates and Tony Smith walk you through the components and capabilities that make up a SharePoint 2010 environment. Their expertise shines as they provide step-by-step instructions for using and managing these elements, as well as recommendations for how to best leverage them. As a reader, you'll then embrace two common SharePoint uses, document management and project information management, and walk through creating samples of these solutions, understanding the challenges these solutions are designed to address and the benefits they can provide.

The authors have brought together this information based on their extensive experience working with these tools and with business users who effectively leverage these technologies within their organizations. These experiences were incorporated into the writing of this book to make it easy for you to gain the knowledge you need to make the most of the product.

Produktdetails
The Expert's Voice in SharePoint
Verlag: Apress
Artikelnr. des Verlages: 12794348
3. Aufl.
Seitenzahl: 508
Erscheinungstermin: 21. Mai 2010
Englisch
Abmessung: 235mm x 191mm x 27mm
Gewicht: 740g
ISBN-13: 9781430227632
ISBN-10: 143022763X
Artikelnr.: 27355972
Chapter 1: Introduction to SharePoint TechnologiesChapter 2: SitesChapter 3: SharePoint Server 2010Chapter 4: List ConceptsChapter 5: ListsChapter 6: LibrariesChapter 7: Workflow and Information Management PoliciesChapter 8: Pages and Web PartsChapter 9: Personalization FeaturesChapter 10: Document Management SolutionsChapter 11: Project Collaboration