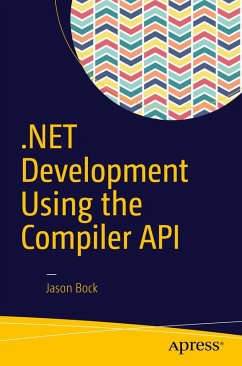 Andere Kunden interessierten sich
auch
für

You will learn how to analyze your code for defects in a fast, clean manner never available before. You'll work with solutions and projects to provide automatic refactoring, and you'll discover how you can generate code dynamically to provide application implementations at runtime
Having the Compiler API available opens a number of doors for .NET developers that were either simply not there before, or difficult to achieve. However, the API is vast, and this concise book provides a valuable roadmap to this new development environment.
What You Will Learn:

Understand how to generate, compile, and execute code for a number of scenarios
How to create diagnostics and refactoring to help developers enforce conventions and design idioms

Experiment with the compiler code base and see what can be done to influence the inner workings of the compilation pipeline

Who This Book Is For : Experienced .NET developers, but detailed compiler knowledge is not necessary.

Produktdetails
Verlag: Apress / Springer, Berlin
Artikelnr. des Verlages: 978-1-4842-2110-5
1st ed.
Erscheinungstermin: 1. Juli 2016
Englisch
Abmessung: 235mm x 155mm x 9mm
Gewicht: 292g
ISBN-13: 9781484221105
ISBN-10: 1484221109
Artikelnr.: 45081162