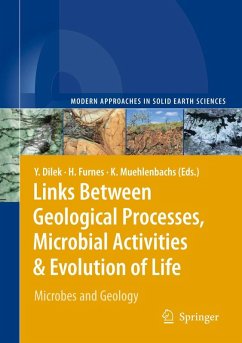 Produktdetails
Modern Approaches in Solid Earth Sciences 4
Verlag: Springer / Springer Netherlands
Artikelnr. des Verlages: 12054176
Erscheinungstermin: 11. Juli 2008
Englisch
Abmessung: 241mm x 160mm x 24mm
Gewicht: 707g
ISBN-13: 9781402083051
ISBN-10: 140208305X
Artikelnr.: 23527921
Preface.Acknowledgements.Contributors.1. Oceanic pillow lavas and hyaloclastites as habitats for microbial life through time - a review; H. Furnes et al.2. Microbial colonization of various habitable niches during alteration of oceanic crust; M. Ivarsson, N.G. Holm.3. Ambient inclusion trails: their recognition, age range and applicability to early life on earth; D. Wacey et al.4. Spatial distribution of the subseafloor life: diversity of biogeography; F. Inagaki, S. Nakagawa.5. Analysis of deep subsurface microbial communities by functional genes and genomics; A. Teske, J. Biddle.6. Diversity of Behamian stromatolite substrates; R. Ginsburg, N. Planavsky.7. Evaporite microbial films, mats, microbialites, and stromatolites; R. Brigmon et al.8. Microbial life in extreme environments: linking geological and microbial processes; H. Dong.9. Marine methane biochemistry of the Black Sea: a review; T. Pape et al.10. From volcanic winter to snowball earth: an alternative explanation for neoproterozoic biosphere stress; R.J. Stern et al.Subject index.
From the reviews: "This compilation of review papers authored by prominent researchers in this field is the result of a Symposium held at the Geological Society of America Annual Meeting in 2006. It is a contemporary, provocative, and very aesthetic manuscript covering a wide range of topics and accompanied by an extraordinary number of high-quality colored figures. ... The book is generally well written ... . Undoubtedly, this book should be very useful to researchers interested in the field of turbulence." (Andrzej Icha, Pure and Applied Geophysics, Vol. 167, 2010)