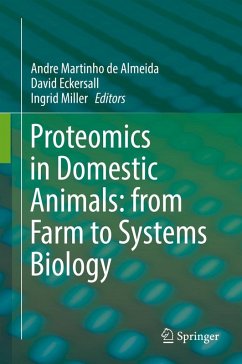 Andere Kunden interessierten sich
auch
für
---
Dieser Download kann aus rechtlichen Gründen nur mit Rechnungsadresse in A, B, BG, CY, CZ, D, DK, EW, E, FIN, F, GB, GR, HR, H, IRL, I, LT, L, LR, M, NL, PL, P, R, S, SLO, SK ausgeliefert werden.
Produktdetails
Verlag: Springer-Verlag GmbH
Erscheinungstermin: 01.02.2018
Englisch
ISBN-13: 9783319696829
Artikelnr.: 52944119
- Proteomics in Domestic Animals on a Farm to Systems Biology perspective: introductory note.- Considerations for farm animal proteomics experiments: an introductory view gel based versus non-gel based approaches.- Quantitative Gel electrophoresis.- Sample preparation for 2DE using samples of animal-origin.- Gel-free Proteomics.- Proteomic research in farm animal serum and plasma.- Proteomic Research in Urine and Other Fluids.- Colostrum proteomics research: a complex fluid with multiple physiological functions.- PROTEOMICS IN MILK AND DAIRY PRODUCTS.- Proteomics in skeletal muscle research.- Proteomics and the characterization of fatty liver metabolism in early lactation dairy cows.- Proteomics Research in the adipose tissue.- Proteomics and mammary gland research in dairy species.- Proteomics in wool and fibre research.- Proteomics of meat products.- Proteomics in Fish and Aquaculture research.- The use of proteomics to study biomarkers of stress and welfare in farm animals.- Bioinformatics Support for Farm Animal Proteomics.- Peptidomics on Farm Animal Research.- Studying the animal transcriptome: state of the art and challenges in the context of Animal and Veterinary Sciences.- NMR Metabolomics pari passu with Proteomics: two relevant tools for animal sciences combined.- Omics and Systems Biology Integration of Production and Omics data in Systems Biology.- CONCLUSION: Proteomics in Domestic Animals on a Farm to Systems Biology perspective: final remarks and future prospects.