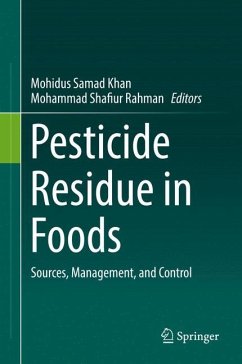 Andere Kunden interessierten sich
auch
für


Pesticide Residue in Foods: Sources, Management, and Control aims to raise awareness of the proper use of these chemicals in order to lower residue in foods and reduce risk for consumers.


Produktdetails
Artikelnr. des Verlages: 978-3-319-52681-2
1st ed. 2017
Erscheinungstermin: 24. April 2017
Englisch
Abmessung: 241mm x 160mm x 17mm
Gewicht: 479g
ISBN-13: 9783319526812
ISBN-10: 3319526812
Artikelnr.: 47235554
Introduction.- Pesticides Used in Food Production.- Statistics of Pesticide Uses in Different Countries.- Risk Benefits of Pesticide.- Pesticide Food Laws and Regulations.- Management and Strategies of Pesticide Use.- Pesticide Degradations, Residues and Environmental Concerns.- Health Concerns of Pesticide.- Alternatives of Pesticides.- Treatments for Reducing Pesticide Reside in Foods.- Analytical Methods in Measuring Pesticides in Foods.- Prospects of Organic Farming.- Biotechnology and Pesticide Use.