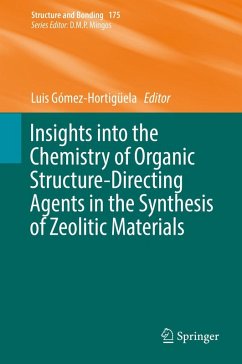 Andere Kunden interessierten sich
auch
für


This volume covers the main aspects of the use of organic molecules as structure-directing agents for the synthesis of zeolites, including first an introduction of the main concepts, then two chapters covering state-of-the-art techniques currently used to understand the structure-directing phenomenon (location of molecules by XRD and molecular modeling techniques). The most recent trends in the types of organic molecules used as structure-directing agents are also presented, including the use of metal-complexes, the use of non-ammonium-based molecules (mainly phosphorus-based compounds) and the role of supramolecular chemistry in designing new large organic structure-directing agents produced by self-aggregation. In addition the volume explores the latest research attempting to transfer the asymmetric nature of organic chiral molecules used as structure-directing agents to the zeolite lattice to produce chiral enantioselective frameworks, one of the biggest challenges today in materials chemistry.

This volume has interdisciplinary appeal and will engage scholars from the zeolite community with a general interest in microporous materials, which involves not only zeolite scientists, but also researchers working on metal-organic framework materials. The concepts covered will also be of interest for researchers working on the application of materials after encapsulation of molecules of interest in post-synthetic treatments. Further the work explores the main aspects of host-guest chemistry in hybrid organo-inorganic templated materials, which covers all types of materials where organic molecules are used as templates and are confined within framework-structured inorganic materials (intercalation compounds). Therefore the volume is also relevant to the wider materials chemistry community.

Produktdetails
Structure and Bonding .175
Artikelnr. des Verlages: 978-3-319-74288-5
1st ed. 2018
Seitenzahl: 260
Erscheinungstermin: 10. April 2018
Englisch
Abmessung: 241mm x 160mm x 20mm
Gewicht: 550g
ISBN-13: 9783319742885
ISBN-10: 3319742884
Artikelnr.: 50307529
Introduction of structure-directing phenomenon by organic molecules: general aspects.- Location of organic structure-directing agents by diffraction techniques.- Molecular modelling of organic structure-direction phenomena.- Beyond nitrogen organic structure-directing agents.- Role of supramolecular chemistry during templating phenomenon in zeolite synthesis.- Metal Complexes as structure directing agents for zeolites and related microporous materials.- Chiral organic structure-directing agents.