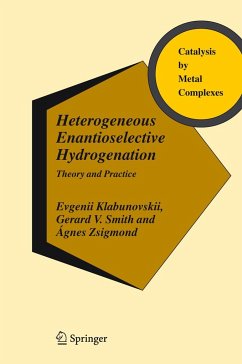 Andere Kunden interessierten sich
auch
für
Heterogeneous Enantioselective Hydrogenation: Theory and Practice reviews the development of enantioselective hydrogenation reaction catalysts. It looks at the first relatively ineffective catalysts right through to modern highly effective enantioselective catalytic systems, comparable in their efficiency to chiral metal complexes and enzymatic systems. The book begins with a summary of the first work on heterogeneous metal catalysts, which showed only the principal possibilities of enantioselective reactions. It then elaborates on metal catalysts which have enantioselectivities close to 100%. Finally, the practical utilization of chiral catalytic systems in processes of hydrogenation is described. The alpha- and beta-hydroxy carboxylic acid esters produced are precursors for manufacturing many synthones used for medicines as well as for monomers used for biodegradable polyesters, both of which have important practical applications.

The volume summarizes more than 800 scientific papers in the field of enantioselective catalytic hydrogenation reactions, mainly those using heterogeneous metal catalysts. It provides detailed explanations of special techniques for the preparation of effective dissymmetric catalysts which provide highly efficient catalytic systems.


Produktdetails
Catalysis by Metal Complexes 31
Verlag: Springer / Springer Netherlands
Erscheinungstermin: Dezember 2006
Englisch
Abmessung: 250mm x 169mm x 22mm
Gewicht: 648g
ISBN-13: 9781402042942
ISBN-10: 1402042949
Artikelnr.: 20752717
ASYMMETRIC ADSORPTION ON MINERALS.- HETEROGENEOUS HYDROGENATION CATALYSTS BASED ON QUARTZ.- HETEROGENEOUS CATALYSTS SUPPORTED ON CHIRAL CARRIERS.- HYDROGENATION ON CATALYSTS BASED ON Ni AND BIMETALS.- ASYMMETRIC HYDROGENATION OF 2-OXOCARBOXYLIC ACID ESTERS AND UNSATURATED CARBOXYLIC ACIDS ON MODIFIED PT AND PD CATALYSTS.- ELECTROCHEMICAL ENANTIOSELECTIVE REDUCTIONS.- PRACTICAL ASYMMETRIC CATALYTIC REACTIONS.
From the reviews:

"This is a timely monograph because interest in heterogeneous enantioselective catalysis ... is currently high. The intention of the authors was to review the development of the field and to give practical input for the utilization of the technology. ... The reader can find impressive insights and many helpful comments here. ... one of the main goals of the book, the review of the development of enantioselective heterogeneous catalysis, has been reached ... . I recommend the book ... ." (Hans-Ulrich Blaser, Journal of the American Chemical Society, Vol. 129 (12), 2007)