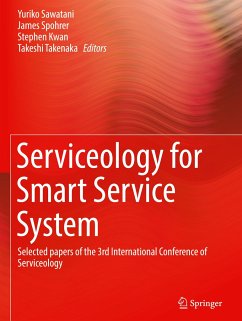 Andere Kunden interessierten sich
auch
für

This book provides a useful general guide to the state of the art in the theory and practice of services. It can also serve as a valuable reference book for researchers in a wide range of fields from engineering to marketing and economics.

Produktdetails
Artikelnr. des Verlages: 978-4-431-56072-2
1st ed. 2017
Erscheinungstermin: 6. Oktober 2016
Englisch
Abmessung: 287mm x 218mm x 27mm
Gewicht: 1336g
ISBN-13: 9784431560722
ISBN-10: 4431560726
Artikelnr.: 44688543
A new service class scheme for service innovation in Japanese automation industry.-  Design of Service Ecosystem Based on Interactive Design Support in the case of Job-hunting Support Services.- A Method for Supporting Customer Model Construction Using a Topic Model for Public Service Design.- A Proposal of the Emotion Hierarchy Diagram for Designing the Service Processes.- A Creed for Service Designers.- Design Support System for Sightseeing Tours.- Service Data Model in Design Support System for Sightseeing Tours.- Design of Localized Science Education Program for Cultivating Inter-generational Community.- How to generate sustainable services?.- A Service Innovation for reducing Food Adulteration problem in Bangladesh.- Challenges to Deploy Service Design in Organizations: Analysis through "Scaling Up" Workshops.- Generalized Service Process Expressed by Context-Free Grammar.- Realization of Mobility as a Service in View of Ambient Intelligence.- Customer Experience in traditional and modern retail formats: Case study of Vietnam.- A combinatorial auction based approach to staff shift scheduling in restaurant business.- Enhancing Kitchen Layout and Training to Improve Management and Employee Satisfaction at a Multiproduct Japanese Cuisine Restaurant.- The efficient provision of culture-sensitive services - a modularization approach.- Nurse Bed Care Activity Analysis for Intelligent Training Service.- An Evolving Service System in Microfinance: A Case Study in BRAC, Bangladesh.- Developing an ad-hoc Questionnaire Model for extracting Consumer behaviour in Service Encounter.- Method of Building Conceptual Preference Model based on Personal Purchase Records for Retail Service improvement.- Are Superior Services Always Good for Satisfaction Formation? Consideration of Indebtedness to a Contact Person.- An analysis of key factors of the "Omotenashi-consumption" in restaurants.- Structural Equation Modeling of Purchase Funnel.- Toward Sports training service with the interactive learning platform.- VR ServE: A Software Toolset for Service Engineering using Virtual Reality.- Productivity improvement and stress reduction by showing information to a surveillance worker.- Skill Evaluation and Education Services for Bed-Care Nursing with Sliding Sheet with Regression Analysis.- "Kizkey" is the key for a better care service.- Role of Servicing Activity Visualization in Quality Control Circle.- Physiological Detection of Satisfaction for Services by Body Motion Wave revealing Unconscious Responses reflecting Activities of Autonomic Nervous Systems.- The effects of wait time, length of stay and hospital rehabilitation on the structure of patient satisfaction.- Service Satisfaction and the Consciousness-Attitude Gap for Foreign Tourists Visiting Japan.- Service as Artifact: Reconsideration of Value Co-creation.- Development of Conceptual Framework for Value Co-creation of Service based on the Japanese Governmental Service Science Research Program.- An Interactive Model for the Synthesis of Service Functions through Use Processes.- Statistical Estimation of Software Quality in Hospital Information System.- A Consideration of the Pricing Structure of Aesthetic Services: An Example of Consumer Decision Making with Ambiguous Information.- Designing New Business Development Program Based on Systems Engineering Methodology with Participatory System Analysis in Small and Mid-Size Enterprise.- Qualitative Simulation for Early- Stage Service Design.- Impacts of Seasonal Factors on Travel Behavior -- Basic analysis of GPS trajectory data for Eight months --.- Collaborative Innovation Centers (CICs): Toward Smart Service System Design.- The value of the word of mouth for tasting rice.- Dispersed Energy Storage and Its Effect on Market Efficiency in Electricity Trading with Distributed Power Resources: An Experimental Economics Study.