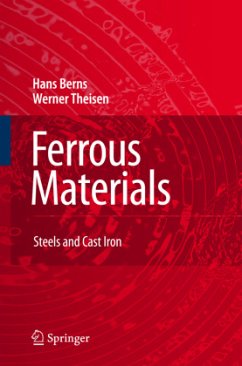 Andere Kunden interessierten sich
auch
für

This book closes the gap in the treatment of steel and cast iron. Each chapter takes into account the gradual transitions between the two types of ferrous materials. The authors demonstrate that steel and cast iron are versatile and customisable materials which will continue to play a key role in the future.
Hans Berns
Born 1935, studied ferrous metallurgy, worked in the specialized steel industry from 1959 to 1979, doctorate TH Aachen 1964, habilitation TU Berlin 1975, held the Chair of Materials Technology at the Ruhr-University Bochum from 1979 to 2000.
Werner Theisen
Born 1957, studied mechanical engineering, research assistant and chief engineer at the Ruhr-University Bochum up to 1995, doctorate 1988, habilitation 1996, worked in the mechanical-engineering industry until 2000, has held the Chair of Materials Technology of the Ruhr-University Bochum since 2000. The annual global production of ferrous materials exceeds the sum of all other metallic materials by more than one order of magnitude. The huge demand for ferrous materials is driven not only by costs and availability, but chiefly by their wide range of useful properties that can be tailored by alloying and processing. This book addresses these relationships and applications of ferrous materials. Each chapter deals with particular topics relating to both steel and cast iron, which have hitherto been handled separately for historical reasons.
Part A describes the fundamental principles. Part B comprises almost two thirds of the book and discusses standardised materials, their processing and applications as well as recent developments. Annex C describes the designation systems and gives a brief history of ferrous materials. The individual chapters are:
A1 Constitution B1 Materials for general applications
A2 Microstructure B2 High-strength materials
A3 Heat treatment B3 Materials for surface layer treatments
A4 Properties B4 Tools for processing minerals
B5 Tools for processing materials
B6 Chemically resistant materials
C1 Material designations B7 Creep-resistant materials
C2 History of iron B8 Functional materials
This book focuses on materials technology and is intended for engineers working with ferrous materials in practical situations who wish to deepen their understanding or who are looking for advice. The necessary practical relevance is based on the authors' many years of industrial experience. Students will find a clear and well-structured presentation with useful diagrams, informative tables, plenty of data and many cross-references in the text. A list of the effects of alloying and tramp elements as well as a detailed index and keyword list assist the reader in finding the required information.
Harmonisation of European standards has made it possible to translate this book from German, currently in its third edition, into English. It was translated by Gillian Scheibelein B.Sc.(Hons.).
Produktdetails
Verlag: Springer, Berlin
Artikelnr. des Verlages: 12868179
1st Edition. 2008
Erscheinungstermin: Oktober 2010
Englisch
Abmessung: 236mm x 159mm x 28mm
Gewicht: 644g
ISBN-13: 9783642090936
ISBN-10: 3642090931
Artikelnr.: 32078440
Part A Fundamentals of ferrous materials A.1 Constitution A.1.1 Pure Iron A.1.2 Iron-carbon A.1.3 Iron alloys A.2 Microstructure A.2.1 Near-equilibrium structures A.2.2 Non-equilibrium structures A.2.3 Morphology of cementite and graphite A.3 Heat treatment A.3.1 Annealing treatments A.3.2 Hardening and related treatments A.3.3 Surface treatments A.3.4 Side effects A.4 Properties A.4.1 Mechanical properties A.4.2 Tribological properties A.4.3 Chemical properties A.4.4 Special physical properties Part B Ferrous materials and their application B.1 Materials for general use B.1.1 Carbon steels B.1.2 Cast irons B.2 High strength materials B.2.1 Weldable rolled steels B.2.2 Forged steels with integrated heat treatment B.2.3 Heat treated constructional steels B.2.4 Heat treated cast irons B.3 Materials for surface treatment B.3.1 Materials for surface hardening B.3.2 Nitriding steels B.3.3 Case-hardening steels B.4 Tools for processing minerals B.4.1 Material concept B.4.2 Tools made of hot-worked steels B.4.3 Cast tools B.4.4 Coated tools B.5 Tools for processing metals and polymers B.5.1 Cold-work tool steels B.5.2 Steels for polymer processing B.5.3 Hot-work tool steels B.5.4 Tools for metal cutting B.6 Chemically resistant materials B.6.1 General comments B.6.2 Stainless steels B.6.3 Heat-resistant steels B.6.4 Cast irons B.7 Creep resistant steels B.7.1 Properties B.7.2 Key applications B.8 Functional materials B.8.1 Soft magnetic materials B.8.2 Hard magnetic materials B.8.3 Non-magnetic materials B.8.4 Materials of special thermal expansion B.8.5 Shape memory alloys B.8.6 Materials for electrical heating Appendix C.1 Designation of steels and cast-iron along European Standards EN C.2 Short history of iron C.3 References to figures and tables
---