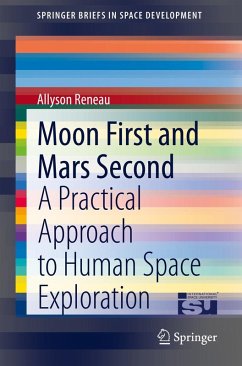 Andere Kunden interessierten sich
auch
für
Moon First and Mars Second. These findings and recommendations have been adopted by current NASA Administrator Jim Bridenstine, as well as the current U. S. president. The research in this text reflects the author's experiences working internally within NASA Headquarters, the FAA Commercial Spaceflight Office, as well as the International Space University. It is partially based on Reneau's award-winning Harvard thesis in conjunction with her Master's in International Relations.

Produktdetails
SpringerBriefs in Space Development
Artikelnr. des Verlages: 978-3-030-54229-0
1st ed. 2020
Seitenzahl: 124
Erscheinungstermin: 10. November 2020
Englisch
Abmessung: 235mm x 155mm x 7mm
Gewicht: 204g
ISBN-13: 9783030542290
ISBN-10: 3030542297
Artikelnr.: 59619922
Chapter 1: introduction and the importance of Focusing on the Moon.- Chapter 2: Understanding the Options for Human Exploration and Ultimate Colonization.- Chapter 3: The Advantages of the Moon in terms of Transportation, Fuel Expenditures, Access to Water, and Expense.- Chapter 4: The Advantages of the Moon in terms of Telecommunications and IT Services.- Chapter 5: The Advantages of the Moon in the Context of Near Instantaneous Support Services from Earth.- Chapter 6: Financial, Technical, Utility Infrastructure feasibility to creating a Lunar Colony/ Habitat versus doing so on Mars.- Chapter 7: Examining New Capabilities that could be Created and Tested on the Moon before seeking a Permanent Mars Presence.- Chapter 8: Planning for the Future.- Chapter 9: Conclusions and Next Steps.- Appendix 1: Key Terms and Concepts.- Appendix 2: Space Policy Directive 1.- About the Author.- Index.
---