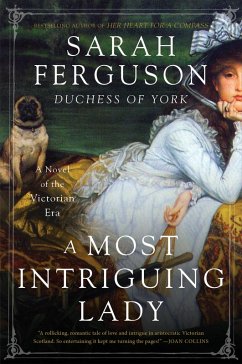 Geräte: eReader

mit Kopierschutz

FamilySharing(5)
Andere Kunden interessierten sich
auch
für
From Sarah Ferguson, the Duchess of York, a sweeping, romantic compulsively readable historical saga about a Duke's daughterthe perfect Victorian ladywho secretly moonlights as an amateur sleuth for high society's inner circle.
Victorian London was notorious for its pickpockets. But in the country houses of the elite, gentleman burglars, art thieves and con men preyed on the rich and titled. Wealthy victimswith their pride and reputation at stakewould never go to the police. What they needed was a society insider, one of their own, a person of discretion and finely tuned powers of observation, adept at navigating intrigue.
That person was Lady Mary Montagu Douglas Scott, the youngest child of Queen Victoria's close friends the Duke and Duchess of Buccleuch. Bookish, fiercely intelligent, and a keen observer, Mary has deliberately cultivated a mousey persona that allows her to remain overlooked and significantly underestimated by all. It's the perfect cover for a sleuth, a role she stumbles into when trying to assist a close friend during a house party hosted by her parents at their stately Scottish home, Drumlanrig Castle.
It is at this party where Lady Mary also meets Colonel Walter Trefusis, a distinguished and extremely handsome war veteran. Tortured by memories of combat, Walter, like Mary, lives a double life, with a desk job in Whitehall providing a front for his role in the British Intelligence Service. The two form an unlikely alliance to solve a series of audacious crimesand indulge in a highly charged on-off romance.
Pacy, romantic, and fun,
A Most Intriguing Lady
documents one remarkable woman's ability to be both the perfect lady, and a perfectly talented detective...and, of course, to find love too.
---
Dieser Download kann aus rechtlichen Gründen nur mit Rechnungsadresse in A, B, BG, CY, CZ, D, DK, EW, E, FIN, F, GR, HR, H, I, LT, L, LR, M, NL, PL, P, R, S, SLO, SK ausgeliefert werden.
"A fantastic historical mystery with plenty of passion as you would expect from the Duchess of York. A triumph!" - Roma Downey OBE, actress, producer and New York Times bestselling author

"A rollicking, romantic tale of love and intrigue in aristocratic Victorian Scotland. Sarah Ferguson's fascinatingly detailed novel kept me turning the pages as it's very entertaining." - Dame Joan Collins

"She's done it again, and I bet this one will be even more successful." - Jeffrey Archer

"[An] intriguing coming-of-age story fans of historical drama are sure to enjoy...the novel...[paints] a rich, believable picture of 19th-century life." - USA Today on Her Heart for a Compass

"Sarah Ferguson, Duchess of York, has delivered to readers a brilliant and glittering jewel of a novel, replete with fascinating historical detail, lush lyrical language, and compelling, complex characters who leap from the page. I was wholly swept away by this story, wishing to race through its gripping plot while also lingering to relish each delicious page. This beautiful novel heralds the entry of Sarah Ferguson, Duchess of York, as the new leading voice in Historical Fiction." - Allison Pataki, New York Times Bestselling author of The Queen's Fortune, on Her Heart for a Compass

"A tale of daring and determination, set against the glamorous heights, and the harsh restrictions of aristocratic society in the middle years of the British nineteenth century." - Sir Julian Fellowes, creator of Downton Abbey, on Her Heart for a Compass

"Sarah Ferguson, Duchess of York, has looked deep into her own generous impulsive heart to write a compelling story of a young woman who rebels against the restrictive Victorian conventions of her time to find self-fulfillment and love." - #1 New York Times bestselling author Jeffrey Archer on Her Heart for a Compass

"Fans of Downton Abbey will revel in everything they love about a big, fat 19th-century yarn." - Kirkus Reviews on Her Heart for a Compass


"Captivating...A debut historical novel of thought-provoking escapism. The pages turn swiftly." - Booklist