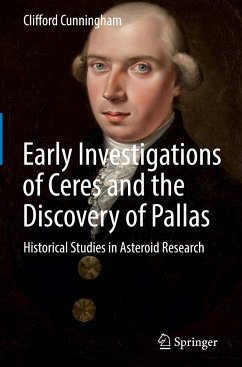 Andere Kunden interessierten sich
auch
für


Astronomy was a truly cosmopolitan field at the time, spanning across various disciplines, and the discovery of Pallas, a story completely told in these pages, exemplifies the excitement and drama of early 1800s astronomy. All the private correspondence about the study of Ceres and Pallas in 1802 is given here, which helps to contextualize and personalize the discovery.


Produktdetails
Artikelnr. des Verlages: 978-3-319-28813-0
2. Aufl.
Erscheinungstermin: 31. August 2016
Englisch
Abmessung: 245mm x 164mm x 27mm
Gewicht: 840g
ISBN-13: 9783319288130
ISBN-10: 331928813X
Artikelnr.: 44223649
The Triumph of the Human Intellect.- France vs Germany.- Hegel and Ceres.- Piazzi's Deception.- Herschel's New Dynasty.- Origins of the Asteroids.- The Scientific Papers about Ceres.- Biographies.
"The book is a fascinating description of what was taking place at the time in this field of astronomy. ... a work of great bibliographic scholarship and as a detailed collection of relevant material from this brief period in asteroidal research will be extremely useful, thought-provoking, and referred to for many years to come." (David W. Hughes, The Observatory, Vol. 137, August, 2017)

"The author, Clifford Cunningham, is an expert in the History of Astronomy and in particular about the asteroids, on which he authored several books and papers. He therefore represents an authoritative and well-informed source of information. ... this book is interesting for its completeness in an intriguing but often overlooked topic of the history of astronomy. Surely worth the reading." (Gabriella Bernardi, Astrocom et al., astrocometal.blogspot.de, December, 2016)