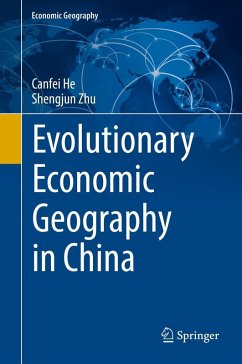 Andere Kunden interessierten sich
auch
für


The two main audiences that this book appeals to are economic geography and regional science. The topics covered in the book are also relevant to development studies, economics, economic sociology and international studies, offering academics, international researchers, post-graduate and advanced undergraduate students in these fields an accessible, grounded, yet theoretically sophisticated account of the evolutionary economic geography in China and its interaction with firm performance and regional economic development. The book is also attractive to national policy makers, since it engages directly with economic and industrial policy issues, such as industrial competitiveness, regional and national development, industrial and employment restructuring, and trade regulation.


Produktdetails
Economic Geography
Artikelnr. des Verlages: 978-981-13-3446-7
1st ed. 2019
Erscheinungstermin: 2. April 2019
Englisch
Abmessung: 244mm x 164mm x 22mm
Gewicht: 718g
ISBN-13: 9789811334467
ISBN-10: 9811334463
Artikelnr.: 54408911
Introduction.- How Has Production Space Evolved in China?.- How Does Regional Industrial Structure Evolve in China?.- What Matters for Regional Industrial Dynamics in China?.- What Facilitates New Firm Formation in China?.- Does Creative Destruction Work for Chinese Regions?.- What Causes Firm Failure in China?.- What Sustains Large Firms in China?.- How Do Agglomeration Economies Contribute to Firm Survival in China?.- How Does Geese Fly Domestically? Firm Demography and Spatial Restructuring in China's Apparel Industry.- How Do Environmental Regulations Affect Industrial Dynamics in China?.- How to Jump Further? Path Dependence and Path Breaking in An Uneven Industry Space.- What Drives Evolution of Export Product Space in China?.- How Do Firm Dynamics Affect Regional Inequality of Productivity in China?.- Summary and Conclusion.
---