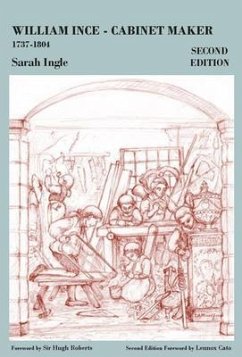 Andere Kunden interessierten sich
auch
für
The story covers:
rural Worcestershire in Tudor times
court cases in the Star Chamber of James 1 of England
plague and Civil War in a Worcestershire village
ancient deeds and indentures
emigration to London
Ince & Mayhew: the lives of William Ince and John Mayhew and their exquisite work
the lives of the Ince women across the generations
The detailed history of the firm Ince & Mayhew starts with their furniture directory The Universal System of Household Furniture and goes through to the winding up of the long-running Chancery case that ended their partnership. The lives of both William Ince and John Mayhew convey the riches that could be enjoyed by the combination of talent and entrepreneurship, but also the hardship that had to be endured in the conditions of their time.
A brief look at their descendants touches on diverse topics, including:
the ending of slavery in Jamaica
the proposed Pyramid Cemetery for London
two renowned American actors
the artist Joseph Murray Ince
the journalist and social researcher Henry Mayhew
The second editon is about twice the size of the original with a greater emphasis on celebrating the work of William Ince. It also includes new information on his father and sisters in Worcestershire, his wife's family in London and the intriguing adventures of
William's son Frederick in America
linked to the struggles of his long-suffering wife Martha de Bar in England, taken from Frederick's papers written between 1824 and 1836.
There is a chapter on John Mayhew and his family, including new research on John's baptism and his siblings, and information about his children and grandchildren. There is also information on some of William's more notable descendants, including the colourful actress
Annette Ince, who played Juliet to John Wilkes Booth's Romeo
and the artists Joseph Murray Ince, Charles Percy Ince and Charlotte Grace Cowell.
The book has over a hundred illustrations with drawings and water-colours, as well as photographs, maps and diagrams, more than half in colour.
This book is a must for anyone wanting to know more about the life of one of the most important cabinet makers in England in the 18
th
century whose name has every right to be as celebrated as that of Chippendale.
---
Dieser Download kann aus rechtlichen Gründen nur mit Rechnungsadresse in A, D ausgeliefert werden.
Produktdetails
Verlag: GSIngle Publications
Seitenzahl: 186
Erscheinungstermin: 19. Mai 2020
Englisch
ISBN-13: 9781916338715
Artikelnr.: 59413914