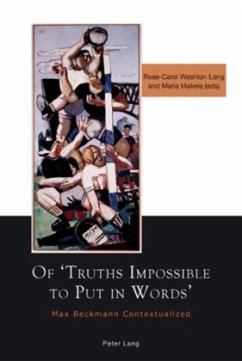 Produktdetails
Artikelnr. des Verlages: .10704, 10704
Neuausg.
Seitenzahl: 356
Erscheinungstermin: 2. März 2009
Englisch
Abmessung: 223mm x 151mm x 25mm
Gewicht: 670g
ISBN-13: 9783039107049
ISBN-10: 3039107046
Artikelnr.: 27786908
Contents: Rose-Carol Washton Long/Maria Makela: Introduction - Jay A. Clarke: Space as Metaphor: Beckmann and the Conflicts of Secessionist Style in Berlin - Karen Lang: Max Beckmann's Inconceivable Modernism - Rose-Carol Washton Long: Ambivalence: Personal and Political: Max Beckmann's Print Portfolios, 1919-1924 - Marsha Morton: 'Painted Sounds': Music in the Art of Max Beckmann - Barbara C. Buenger: Some Portraits from Weimar-Era Frankfurt - James Van Dyke: Max Beckmann, Sport and the Field of Cultural Criticism - Peter Chametzky: Titanic Sinks, Departure Arrives: On Beckmann, Film and the Fall of History Painting and Rise of the Historical Object - Sabine Eckmann: Max Beckmann: From Space to Place - F. Forster-Hahn: Imagining the American West: Max Beckmann in St. Louis and California - David Ehrenpreis: Between Heaven and Earth: Max Beckmann's Last Representations of the Artist.